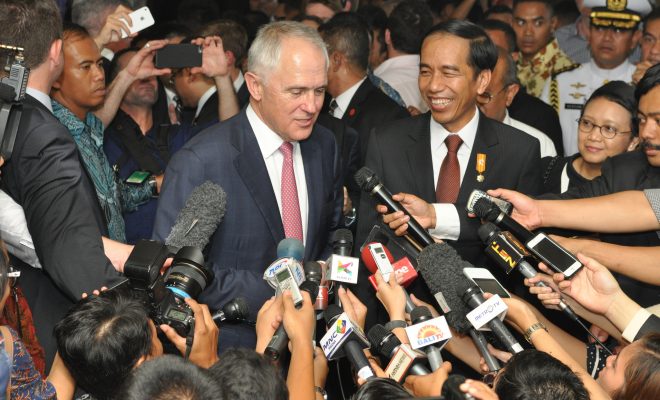 Image Courtesy of Australian Embassy Jakarta; License: (CC BY 2.0)
World
Australian PM Malcolm Turnbull Proposes a More Difficult Path to Citizenship
By
|
"America First," President Donald Trump's ubiquitous campaign slogan, is apparently contagious. Australian Prime Minister Malcolm Turnbull proposed a set of rules on Thursday that would make it tougher for refugees and immigrants to become Australian citizens. And last week, Turnbull announced plans to raise the barriers for migrants hoping to come to Australia for high-skilled jobs on a temporary work visa.
Among the citizenship rules the prime minister proposed on Thursday is an "Australian values" test, more stringent requirements for the citizenship test, and a four-year wait period. Hopeful citizens would also be expected to have a greater knowledge of English than currently required. In a statement, Turnbull explained his crack down on migration:
"We must ensure that our citizenship program is conducted in our national interest," he said. "Membership of the Australian family is a privilege and should be granted to those who support our values, respect our laws and want to work hard by integrating and contributing to an even better Australia."
Australia is a multicultural bastion, often overshadowed by the "melting pots" of America, Canada, and other Western nations. In fact, 27 percent of the population is foreign-born, double the foreign-born rate in the U.S. and England. Australia is represented by migrants from 200 countries. The new rules, which must be approved by parliament, would stiffen an already stringent citizenship process.
For instance, prospective citizens must already have solid enough English skills to take the citizenship test, which is only offered in English. Under the proposed new rules, three test failures would spell the end of an immigrant's or refugee's chance at citizenship. According to Australia's Department of Immigration and Border Protection, 102,029 people took the citizenship test between 2015-2016. Nearly 3,500 people failed it over three times. Prospective citizens must also sign an "Australian values statement." Here is an excerpt:
Australian society values respect for the freedom and dignity of the individual, freedom of religion, commitment to the rule of law, Parliamentary democracy, equality of men and women and a spirit of egalitarianism that embraces mutual respect, tolerance, fair play and compassion for those in need and pursuit of the public good.
Around the world, populism and nationalism are on the rise. France may elect the populist, far-right firebrand Marine Le Pen. England left the European Union. Turkey's president just effectively cemented his hold on power until 2029, a move likely to alienate Turkey from the West. But until now, at least to the outside world, Australia seemed to be eluding the populist trend. But some analysts see Turnbull's proposals not as a turn toward nationalism, but as a way to placate Australia's populists.
"These new laws are about trying to keep traditional coalition supporters from turning to the far-right parties," Haydon Manning, a political analyst in Adelaide told Bloomberg. "Turnbull will be aware that he doesn't have much to offer voters in the budget because the coffers are bare, so this is a way he can show that he's still thinking about them and addressing their concerns about jobs and security."