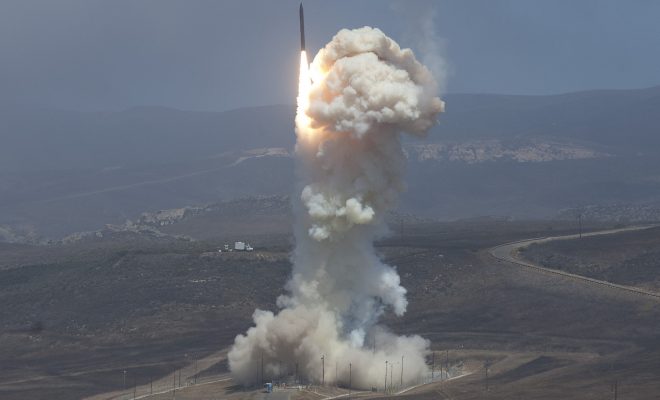 Image Courtesy of U.S. Missile Defense Agency's photo stream; License: (CC BY 2.0)
World
How Will the U.S. Respond to Iran's Latest Missile Test?
By
|
Iran's defense minister confirmed on Wednesday what the U.S. and Israel suspected earlier this week: Iran conducted a missile test over the weekend. Iran has launched missile tests since it struck a nuclear agreement with the U.S. and other world powers last summer, but this was the first to occur under President Donald Trump. At an emergency meeting of the United Nations Security Council on Tuesday, Nikki Haley, the U.S. ambassador to the UN, delivered an urgent diatribe, calling the missile launch "absolutely unacceptable."
"The United States is not naïve," Haley said after the meeting. "We're not going to stand by. You're going to see us call them out as we said we would, and you are also going to see us act accordingly." What, if any, concrete steps the U.S. can take to reign in Iran is unclear. But the council said it would refer the case to its sanctions committee; it did the same after Iran's missile test last year, which resulted in no further action. 
Iran's latest missile launch, which according to U.S. officials traveled over 600 miles before exploding, could signal a new tenuous chapter in the Iran-U.S. relationship. During Trump's first week, he issued an executive order that incensed Iran and many of its Middle Eastern neighbors. The order suspends the U.S. refugee program for 120 days–refugees from Syria will be barred indefinitely–and keeps citizens from seven predominantly Muslim countries (including Iran) from entering the U.S. for at least 90 days.
Last summer, U.S. Secretary of State John Kerry, along with five other world powers, struck a contentious deal with Iran. Under the deal, sanctions on Iran were lifted, and Iran scaled back its nuclear program. Iran could still use nuclear power for energy purposes, however. Trump has questioned the deal, raising speculations about whether he will enforce it more strictly or abandon it entirely. During his confirmation hearing, James Mattis, the newly confirmed defense secretary, said that while the deal is flawed, the U.S. should stick to it.
Iran contends its missiles are not equipped to carry nuclear warheads, so its test does not violate the agreement or a subsequent UN resolution that directed Iran "not to undertake any activity related to ballistic missiles designed to be capable of delivering nuclear weapons, including launches using such ballistic missile technology." Iran's foreign minister said the tests are "exclusively for legitimate defense." National Security Advisor Michael Flynn responded on Wednesday: "As of today, we are officially putting Iran on notice."