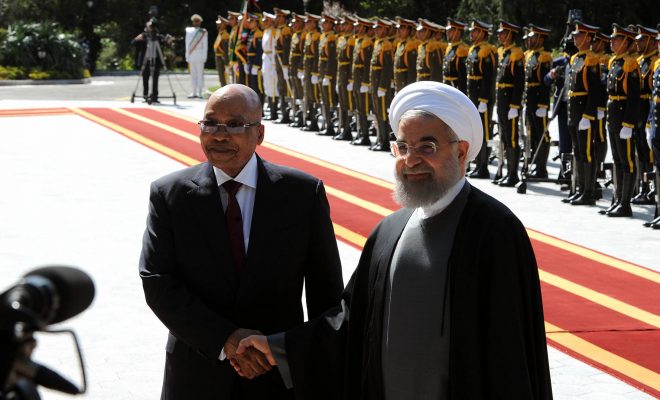 Image Courtesy of GCIS; License: (CC BY-ND 2.0)
World
What to Expect in the Upcoming Iranian Presidential Election
By
|
On May 19, Iran will hold a presidential election, its first since Hassan Rouhani was elected in 2013. Rouhani, a relative moderate who helped broker the nuclear deal with the U.S., is running for re-election against five other candidates. The election pits Rouhani against a host of hard-liners, including Ebrahim Raisi, who has secured the backing of Ayatollah Ali Khamenei and Iran's powerful Revolutionary Guard.
During a speech on Wednesday, Khamenei, who holds greater powers than the president, suggested tensions are growing in the weeks before the election. He bluntly said any troublemakers, anybody seeking to disrupt the election "will definitely be slapped in the face." It seems Khamenei, who has been Iran's supreme leader since 1989, was suggesting that protests would be met with violence.
Many Iranians saw the 2009 election as a rigged affair in favor of then-incumbent Mahmoud Ahmadinejad. Millions flooded the streets in protest; dozens were killed, hundreds more were arrested. Ahmadinejad, an extremely controversial figure who took a hard stance against the U.S. and Israel (he's a Holocaust denier and has called for Israel's destruction), registered to run for a third term in the coming election.
In April, Iranian authorities rejected Ahmadinejad's bid, along with 1,636 other presidential hopefuls. The pool of six candidates who were chosen include the mayor of Tehran, Iran's capital city. Rouhani, however, is widely expected to net a second term. His presidency has largely been defined by his promise to kick-start the Iranian economy, which he contends the nuclear deal helped achieve.
Forged in 2015, the deal lifted sanctions off Iran's economy, thawing billions of dollars worth of assets. Many Iranians, however, have not felt a substantial change in their daily lives. The deal was also opposed by Iran's hard-line clerics and its Revolutionary Guard, who saw the deal as a threat to their own economic power. Rouhani's platform rests on the success of the deal, which he contends needs time to pan out.
But Iran's most powerful figures want a president more in line with their hard-line ideology. Raisi, who is close to Khamenei, is accused of helping to orchestrate a 1988 plot that killed thousands of political prisoners. He is also seen as a potential successor to Khamenei, who is 77. Electing Raisi could heighten tensions between Iran, the West, and Israel.
Iran is currently on the opposing side in proxy wars being fought in Syria and Yemen. It also funds Hezbollah, a Lebanese militant group that the U.S. and Israel deem a terrorist organization. Under a more hard-line president like Raisi, who holds virulently anti-Western views, these conflicts could worsen. In addition, the nuclear deal could hold less weight, as a leader like Raisi has less stake than Rouhani in its ultimate success.