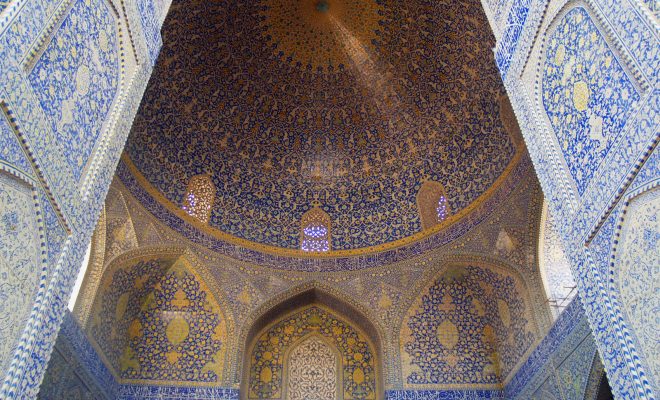 "imam khomeini mosque, isfahan october 2007" courtesy of seier+seier; license: (CC BY 2.0)
World
Iran Dismisses White House Statement on Terror Attack as "Repugnant"
By
|
On Wednesday, two deadly terror attacks took place in Tehran, and ISIS has since claimed responsibility. The attackers targeted two symbolically significant places: the Parliament building and the mausoleum of the Islamic Republic's founder, Ayatollah Ruhollah Khomeini–not to be confused with the country's current Supreme Leader, Ayatollah Ali Khamenei.
International leaders offered their support for the people of Iran, but it took longer for the White House. Finally White House officials published a statement condemning the attacks on its website, but in the last sentence seemed to say that Iran had itself to blame. It read:
We grieve and pray for the innocent victims of the terrorist attacks in Iran, and for the Iranian people, who are going through such challenging times. We underscore that states that sponsor terrorism risk falling victim to the evil they promote.
On Thursday, Iran's Foreign Minister Mohammad Javad Zarif criticized the language and rejected the condolences on Twitter. He called the choice of words "repugnant" and said Iran rejects the United States' claims of friendship.
Repugnant WH statement & Senate sanctions as Iranians counter terror backed by US clients.Iranian people reject such US claims of friendship

— Javad Zarif (@JZarif) June 8, 2017
The attack on Tehran was the worst in many years, and the first successful terror attack by Islamic State on Iran, if the group's claims are true. The perpetrators were reportedly disguised as women, hiding weapons and suicide vests under their clothing. Five were men, one was, in fact, a woman. All six were killed. At least 12 other people died in the attacks and 46 were injured.
It seemed like Iran was unprepared for the violence, as it took hours to get the situation under control. Pictures on social media showed how people, including children, fled through the windows of the parliament building. The attackers shot at people on the streets outside, and at one point, one of them ran out on the streets to continue shooting.
Daily Brief: ISIS traps thousands in Mosul; Germany asked to arrest CIA deputy; #StopArmingSaudi; Iran attack; more https://t.co/TJocoOEo67 pic.twitter.com/i5mRQO1ggR

— Human Rights Watch (@hrw) June 8, 2017
Even so, the speaker of parliament, Ali Larijani, said the attacks were just a "minor incident" and called the attackers "some cowardly terrorists." And Zarif, the foreign minister, also said: "Terror-sponsoring despots threaten to bring the fight to our homeland. Proxies attack what their masters despise most: the seat of democracy."
Zarif's comments seem to refer to Saudi Arabia's Crown Prince Mohammed Salman al-Saud's statements from last month, when he said that Saudi Arabia would bring the battle for regional influence to Tehran rather than fight the fight in Riyadh. Saudi Arabia is Sunni Muslim, while Iran is Shiite. Saudi Arabia denied being involved in the attacks, but combined with the recent development involving Qatar, tensions are on the rise in the region.