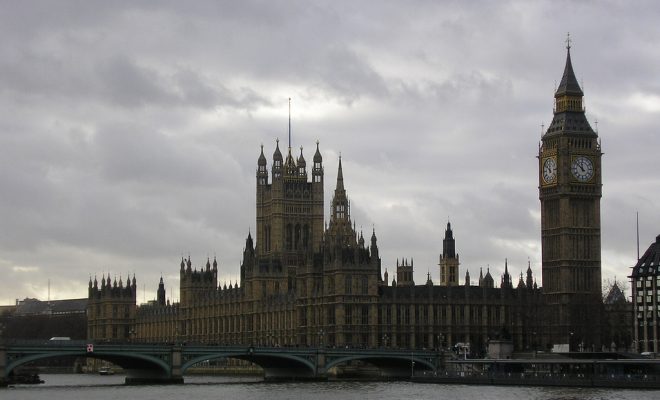 "Parliament" Courtesy of mendhak; License: (CC BY-SA 2.0)
World
British Parliament to Classify Neo-Nazi Group National Action as Terrorist Organization
By
|
National Action is likely to be the first far-right group in Britain to be deemed a terrorist organization, which would effectively make joining and supporting the group a criminal offense. The group regularly invokes Nazi symbols at its rallies and online, and earlier this year, the group praised Thomas Mair for killing a member of Parliament, Jo Cox.
"I am determined that we challenge extremism in all its forms, including the evil of far right extremism," Homes Secretary Amber Rudd said when Mair was convicted in November. On Monday, as Parliament signaled it will be proscribing, or banning, National Action, Rudd called the group "a racist, anti-Semitic, and homophobic organization."
Under Britain's Terrorism Act 2000, groups can be classified as "terrorist organizations." Seventy groups have been proscribed under the bill so far, most of which are Islamist groups. The act says a group classifies if it "commits or participates in acts of terrorism; prepares for terrorism; promotes or encourages terrorism (including the unlawful glorification of terrorism); or is otherwise concerned in terrorism."
While it's unclear if National Action members have committed a violent act of terrorism, they have certainly incited violence, and proselytize hateful rhetoric. For instance, members once sent out a tweet referring to Jewish people by a derogatory term that was used during the holocaust: "Tykes gassin [K*kes] is our motto, #Yorkshire needs you #AntiCommunism #ProNationalSocialism #DefendBritain." The group's Twitter account was suspended. In the website's November update, National Action, which brands itself as a "nationalist youth movement," addressed the potential ban. "We neither sanction or endorse terrorism," the group said.
Being added to the government's official list of terrorist organizations is not necessarily the right approach, the Anti-Fascist Network tweeted on Monday. Saying they support "community and class action, not state bans," the group added: "They can avoid charges by simply re-branding as a 'different' group, and it'll lend them an aura of action and danger." But Parliament is moving full steam ahead with the ban. They will be discussing the ban this week, and it is expected to go into effect on Friday.