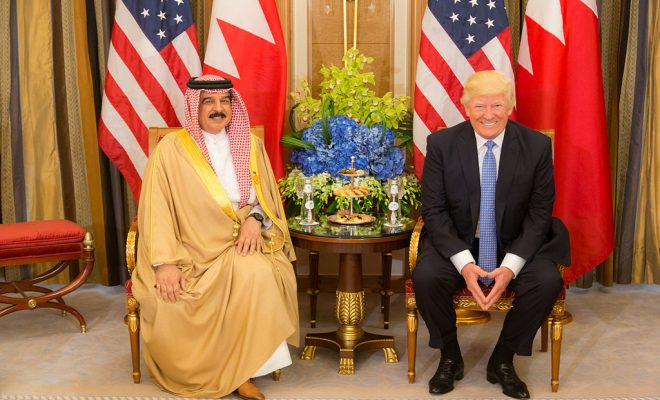 Image Courtesy of The White House; License: public domain
World
What Does the Diplomatic Standoff Between Gulf Countries and Qatar Mean for the U.S.?
By
|
A handful of Gulf Arab nations severed ties with Qatar on Monday, citing its support for terror groups and accusing the oil-rich nation of working behind the scenes with Iran, a regional rival. Some analysts see the abrupt diplomatic freeze as the result of President Donald Trump's warm embrace of Saudi Arabia during his first overseas visit last month. The countries–Saudi Arabia, Egypt, Bahrain, the United Arab Emirates, Yemen, and the Maldives–might have felt emboldened to spar with Qatar, some analysts said, because of Trump's explicit support of Riyadh.
According to statements from Saudi and Egyptian officials, the coordinated split with Qatar is not related to a recent, isolated event, but rather what they see as a longstanding support of terrorist groups, including the Muslim Brotherhood, which the current Egyptian leader ousted from power in 2013.
"[Qatar] embraces multiple terrorist and sectarian groups aimed at disturbing stability in the region, including the Muslim Brotherhood, ISIS, and al-Qaeda," said a statement from a Saudi state news agency. An Egyptian official similarly said Qatar "threatens Arab national security and sows the seeds of strife and division within Arab societies according to a deliberate plan aimed at the unity and interests of the Arab nation."
Qatar, for its part, denies the claims of the Gulf countries, saying: "The campaign of incitement is based on lies that had reached the level of complete fabrications."
Despite its neighbors' claims that it is conspiring with Iran, Qatar, one of the region's wealthiest oil producers, backs groups in Yemen and Syria that are battling Iranian-backed proxies. In Yemen, Qatar supports the Saudi-led (and U.S.-backed) coalition against the Houthi group, which Iran aids. In Syria, Qatar provides support to some of the rebel factions that are fighting Syrian President Bashar al-Assad, who enjoys Iranian backing as well.
While Gulf Arab states have cut diplomatic ties with Qatar in the past, most recently in 2014, they have not taken as drastic steps as they did Monday: land, air, and sea routes were blocked, and Qatari diplomats and citizens expelled. The unprecedented steps could create problems for the U.S. effort to eradicate ISIS–the U.S. military, which partners with Gulf nations to combat ISIS, uses an air base in Qatar.
Whatever the future implications, some Gulf experts see the coordinated stiff-arming of Qatar to be, at least in part, bolstered by Trump's strong rebuke of Iran last month in a speech in Riyadh.
"You have a shift in the balance of power in the Gulf now because of the new presidency: Trump is strongly opposed to political Islam and Iran," Jean-Marc Rickli, head of global risk and resilience at the Geneva Centre for Security Policy, told Reuters. "He is totally aligned with Abu Dhabi and Riyadh, who also want no compromise with either Iran or the political Islam promoted by the Muslim Brotherhood."
Secretary of State Rex Tillerson implored the feuding nations to work out their differences, though he remains confident the spat will not affect the fight against terrorism. "We certainly would encourage the parties to sit down together and address these differences," he said, adding that he does not foresee the disagreements having "any significant impact, if any impact at all, on the unified fight against terrorism in the region or globally."