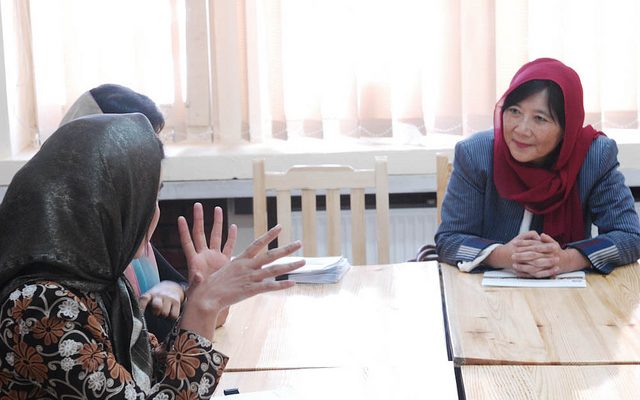 "Kabul" courtesy of US Embassy Kabul, Afghanistan: License (CC BY-ND 2.0)
World
American University in Kabul Faces Tragedy Again
By
|
The American University of Afghanistan has once again seen death at the hands of the Taliban, but it has no plans to stop providing education.
An adjunct professor and a graduate student were both killed on May 31 when 150 people were killed in Kabul, Afghanistan, by a truck bomb. Their deaths marked the third time in less than a year that members of the school, which is not affiliated with the American University located in Washington D.C., have been injured by the notorious terrorist organization.
The saga began on August 7, 2016, when Professors Kevin King and Timothy Weeks were abducted from their car. The pair then appeared in a hostage video which led officials to believe they are being held with other Westerners by the Haqqani sect of the Taliban. After this most recent attack, the university once again reiterated its request for the professors' release.
Then, on August 24, 2016, suicide bombers set off a bomb outside the walls of the school and raided the compound. The attack left 15 people dead, including students, professors, and police officers.
Kabul, the capital of Afghanistan, has once again erupted with violence in recent weeks, including an attack on a mosque and a bombing in rush hour that left hundreds of people injured. This violence has erupted during the holiest month of Islam, Ramadan.
Since American intervention in 2001, the city has been divided and on a perpetual edge of chaos. Still, the university reiterated its commitment to bringing Western education to the troubled nation.
"We haven't closed, we haven't stopped educating," said David S. Sedney, who spent nine months as acting president of the school and revamped its security. "But we do watch things very carefully. But right now on balance, it's the right thing to do to continue operations."
Despite its fortification with 19-foot-high walls, the university remains on edge. Those walls are part of the new, supposedly safer, campus that reopened on March 25. While they enjoy the new facilities, students can be found debating how much safer the campus is, law student Samiullah Sharifi told the Washington Post.
The university, which opened in 2006, graduated its first class in 2011 as it sought to bring a liberal, Western education center to Afghanistan. It has lost a number of its professors and students in recent years, but is committed to their education no matter the costs. "In one attack we're safe and in another we're not," Sharifi said. "We have accepted this as the reality of our lives."