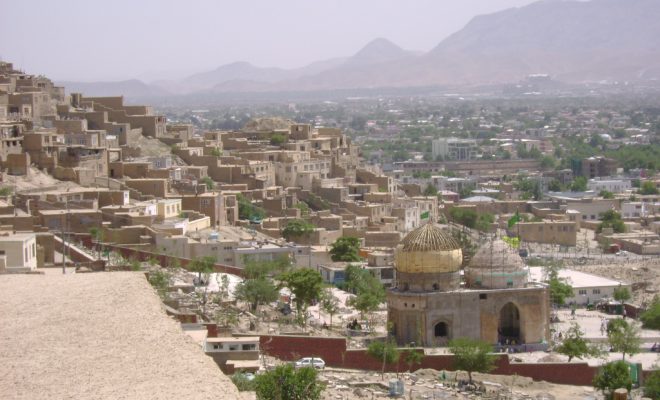 "Kabul", courtesy of Heinrich-Böll-Stiftung; license: (CC BY-SA 2.0)
World
Abducted Professors Beg U.S. Government to Negotiate With the Taliban
By
|
The Taliban has released a video of two professors from the American University of Afghanistan who were abducted in August, the first public evidence that the rebel group is holding the two men hostage. The group wants imprisoned insurgents to be set free in exchange for the two Westerners. In the video, American Kevin King and Australian Timothy Weeks ask the U.S. government to cooperate with the Taliban so that they can be released.
The video clip portrays the two men as fragile and bearded, breaking down in tears and begging President-elect Donald Trump to lead negotiations. "Donald Trump sir, I ask you please. This is in your hands. I ask you please to negotiate with the Taliban. If you do not negotiate with them, we will be killed," said Weeks.
Taliban video shows US and Australian hostages https://t.co/2tp1qEMWr6

— BBC News (World) (@BBCWorld) January 12, 2017
The professors were abducted at gunpoint from their car on August 7, close to the university campus in Kabul. A team of Navy Seals and Army Rangers launched a rescue mission to free them, and the battle resulted in the death of several rebels. But the abducted men were not to be found–the U.S. troops were believed to have missed them by only a few hours.
A few weeks later the Taliban launched an armed attack on the university campus, killing 12 people and wounding many more. Classes have been suspended all fall and were just about to begin again when the video of King and Weeks was released. The school's president, David Sedney, immediately issued a statement calling for the release of his colleagues:
We call on the Taliban to release immediately and safely Kevin and Tim and all other hostages. Kevin and Tim came to Afghanistan as teachers, to help Afghanistan. These innocent people have done nothing to harm anyone and need to be reunited with their family, friends and colleagues.
According to U.S. officials, the Haqqani wing of the Taliban is holding the men. That is the same group that also held U.S. soldier Bowe Bergdahl, who was freed in 2014 and was featured in the podcast Serial last winter. The Haqquanis are also believed to be holding a Canadian-American couple hostage, who allegedly have had two babies since being captured.