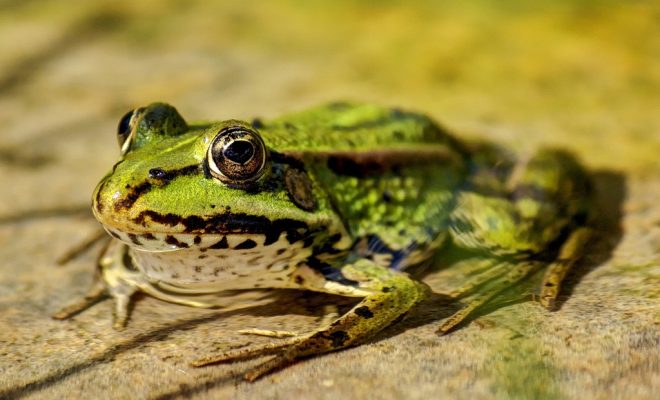 "Frog" courtesy of [Vlastimil Koutecký via Flickr]
Weird News
Pepe the Frog is Now on ADL's List of Hate Symbols
By
|
Pepe the Frog started out as a funny, green Internet frog that often featured the caption, "feels good, man," but on Tuesday he made it onto the Anti-Defamation League's database of hate symbols. He first appeared in the online cartoon "Boys Club" by Matt Furie back in 2005, and then spread across the internet. Over the years he became popular generally, but during the past few months he has appeared in many memes associated with racism, anti-Semitism, and far-right ideology.
This is what the original Pepe looked like.
Pepe the frog will always be feels good man to me pic.twitter.com/BC6oNNdSp2

— Anarcho-Biden (@Anarcho_Biden) September 28, 2016
Almost ten years after his creation, by the end of 2014, Pepe was widespread in the mainstream online community, where he appeared in various different contexts and outfits. Then, the use of Pepe among white supremacists increased and he often appeared as Donald Trump. As the 2016 elections neared, he was shown as Trump on the American side of a fence at the Mexican border, posing as Trump at a lectern, or adorned with swastikas.
Even Trump himself reposted one image.
"@codyave: @drudgereport @BreitbartNews @Writeintrump "You Can't Stump the Trump" https://t.co/0xITB7XeJV pic.twitter.com/iF6S05se2w"

— Donald J. Trump (@realDonaldTrump) October 13, 2015
And according to one man that the Daily Beast interviewed over email, going by his Twitter name @JaredTSwift, this shift was intentional. The purpose was to reclaim Pepe from the mainstream and the "normies." "Normies" are ordinary, mainstream people who, when they start frequently using a meme, kill the joke. The move to start radicalizing Pepe so that no "normies" would dare to use him again was a very conscious Internet movement, according to @JaredTSwift.
Jonathan A. Greenblatt, CEO of the ADL, said in a statement on Tuesday:
Once again, racists and haters have taken a popular Internet meme and twisted it for their own purposes of spreading bigotry and harassing users. These anti-Semites have no shame. They are abusing the image of a cartoon character, one that might at first seem appealing, to harass and spread hatred on social media.
When everyone says you a hate symbol but you just a sad af frog. #pepethefrog pic.twitter.com/AGJ4saPNGG

— HorseHeadventure (@HorseHeadvnture) September 28, 2016
But Pepe's creator, artist Matt Furie, thinks the far-right wing use of Pepe is just a "passing phase." He said in an interview with the Atlantic:
It's people reapproppriating things for their own agenda. That's just a product of the Internet. And I think people in whatever dark corners of the Internet are just trying to one up each other on how shocking they can make Pepe appear.
He described Pepe as a good guy: "The comic itself is just mellow, he's just a chill frog and is pretty good natured."
And as ADL points out, just using a Pepe meme doesn't mean that somebody is racist or hateful. Since the green frog can be used to express a wide range of opinions or feelings, the context and specifics of any meme would have to be taken into consideration before drawing any conclusions.