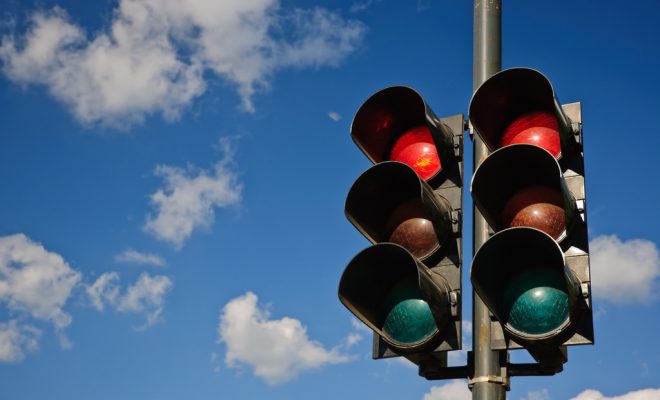 Image Courtesy of [Horia Varlan via Flickr]
Weird News
Pennsylvania Drivers Can Now Go Through Some Red Lights
By
|
A new law that allows Pennsylvania drivers to go through some red lights went into effect on Sunday.
Dubbed the "Ride on Red" law, Act 101, sponsored by Rep. Stephen Bloom (R-Cumberland), allows drivers across the state to go through red lights under specific situations using common sense and caution.
Governor Tom Wolf signed the bill into law in July.
The legislation states that in instances when the light is unresponsive or broken, drivers can legally cross the intersection. Originally the legislation was meant for motorcyclists, but was later expanded to include all vehicles.
Often times motorcycles do not trigger the sensors that are under the pavement, therefore never alerting to the light that it needs to change to green. This law is meant to aid in these malfunctions.
The law, however, does not specify how much time a driver must wait before proceeding, but is intended for drivers to treat it like a stop sign, and waiting for a safe time to cross.
I can see it now…. person at light, man its been 30 second I'm going thru it. In to on coming traffic…….. https://t.co/xFUJ6j9cUA

— Pandora CrossBones (@Pandora_Cross) September 18, 2016
"I was seeking to provide a safe and responsible legal alternative to prevent riders from being trapped in perpetuity at a locked malfunctioning red light," Bloom said in a statement. "This issue was brought to my attention by a local rider and I've learned it's a frequent problem for riders throughout the Commonwealth. This bill doesn't give riders or anyone else a free pass to run red lights, but it does provide them with a sensible safe option under established standards already in place for other types of signal malfunctions."
Suddenly, all the lights seem to be defective. 🙂 https://t.co/wMcSqqj5a9

— cablebandit (@cablebandit) September 18, 2016
The department will also be conducting evaluations on red light enforcement systems.