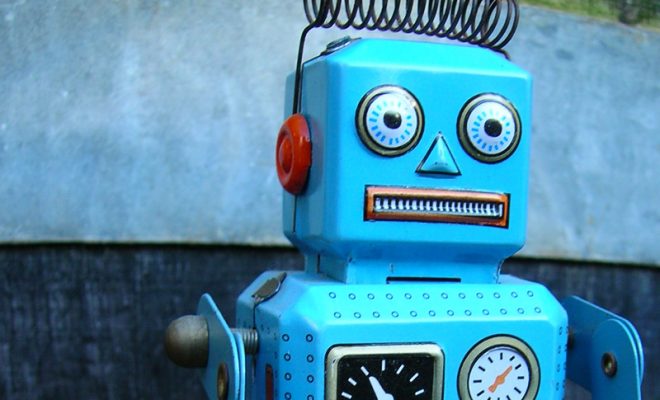 "blue robot" courtesy of Peyri Herrera; license: (CC BY-ND 2.0)
Weird News
The EU May Legally Define Robots as "Electronic Persons"
By
|
As humans create smarter and more advanced robots, and they start to take over human jobs, maybe it's about time to think about their legal status. The European Union is currently considering giving robots the rights of "electronic persons," based on a draft report. But it's not quite as sci-fi as it sounds. Robots won't start thinking all by themselves and demanding equal rights anytime soon. This legal definition is instead a way to hold companies accountable for things their robots do. And it's not law yet, only a draft of a series of recommendations for EU lawmakers. Member of European Parliament Mady Delvaux, from Luxembourg, who wrote the draft report said:
A growing number of areas of our daily lives are increasingly affected by robotics. In order to address this reality and to ensure that robots are and will remain in the service of humans, we urgently need to create a robust European legal framework.
As robots become advanced enough to make decisions without a human's input, they can be considered to be more than simple tools. But it's hard to say just what they are. Legislation would help define that, as well as ensure that someone is liable, for example, if a driverless car has an accident.
EU MEPs endorse Robot rights proposal: "electronic persons" status, kill switches https://t.co/HzmM9yXyMx#Legal #status #EU #robotics #AI pic.twitter.com/zcTIweoxgv

— Ian Hannigan (@IanHannigan) January 12, 2017
Delvaux and other MEPs are campaigning to create a new European agency for robotics and artificial intelligence. In such a new and quickly developing area, experts are needed to ensure that public authorities can easily get access to technical and ethical information. They also suggest streamlined rules for robot appliances and an ethical code of conduct to determine who, in case of a conflict, is to be held accountable for any social, environmental, or health impacts caused by robots. The guidelines would include the recommendation of a kill switch for all AI machines, in case of emergency.
If a robot were to be seen as an "electronic person," it would "clarify responsibility in cases of damage," a press release for the draft report said. So it's not really about making a robot into a person. "Robots are not humans and will never be humans," Delvaux said to The Verge. Legally, it just makes things less complicated. Legislation like this would ensure that companies can't just say "it's not our fault" if a self-driving car crashes and kills whoever is traveling in it.
The next step is for the draft to be passed on to the European Commission, the EU body that makes the laws. An actual decision on the matter could take years.