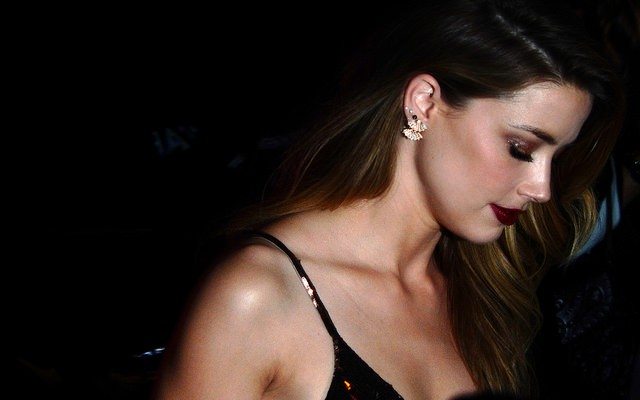 Amber Heard Courtesy of [Greg2600 via Flickr]
Weird News
Amber Heard & Johnny Depp Issue Strange Apology For Pet Smuggling
By
|
Amber Heard and Johnny Depp's Australian puppy-smuggling saga is finally over.
Heard plead guilty Monday to knowingly producing a false and misleading document, and received a one-month $1,000 good behavior bond. Luckily for the actress, prosecutors dropped the more serious illegal importation charges, which carried a maximum penalty of 10 years in prison and a fine of 102,000 Australian dollars (that's $75,000.)
Australian officials' #WarOnTerrier began back in late April 2015, when Heard flew the couples tiny terriers "Pistol and Boo" into Australia without a permit to visit Depp, who was in the country filming of the next installment of "Pirates of the Caribbean." The dogs' secret arrival, however, was in direct violation of the country's strict Quarantine Act, which is designed to prevent infectious diseases, such as rabies, from spreading.
At the time, Australia's Agriculture Minister Barnaby Joyce famously threatened to put the dogs down if they weren't sent back to the U.S. within a 72-hour window. The combination of Depp and Heard's celebrity status and the intensity behind the minister's comments helped propel the unusual illegal immigration story into the national spotlight, as well as offered up plenty of material for online parodies.
But the jokes didn't stop there.
During the trial, Heard and Depp recorded a video apology that was heard by the court and later released by the Australian government. In the video the couple stated that they were "truly sorry that Pistol and Boo were not declared." However, the couple's unusual biosecurity-focused script and overall awkward demeanor didn't help people take them seriously.
Here's the full transcript:
Heard: "Australia is a wonderful island with a treasure trove of unique plants, animals and people."

Depp: "It has to be protected."

Heard: "Australia is free of many pests and diseases that are commonplace around the world. That is why Australia has to have such strong biosecurity laws."

Depp: "Australians are just as unique; both warm and direct. When you disrespect Australian law, they will tell your firmly."

Heard: "I am truly sorry that Pistol and Boo were not declared. Protecting Australia is important."

Depp: "Declare everything when you enter Australia…thanks."
Watch the full video below
It didn't take long before social media began mocking the couples' sincerity and joking that the pair looked like they were being held hostage. Here are some of the best tweets below.
The Johnny Depp apology feels like a hostage video.

— Ricky Gervais (@rickygervais) April 18, 2016
That Johnny Depp apology video… pic.twitter.com/8dPUZor4QU

— Jason Tin (@jasonthetin) April 18, 2016
I think my favourite bit is right at the start when Depp goes to read Heard's line but then realises he is a second tier character

— Helen Davidson (@heldavidson) April 18, 2016
Ranking of Johnny Depp's worst acting performances:

4. The Tourist
3. Pirates 3
2. Apology to Australia video
1. Mordecai

— Mark Di Stefano (@MarkDiStef) April 18, 2016
When Johnny Depp apologises for Charlie & The Chocolate Factory, we'll know he's serious about making it up to Australians #waronterrier

— The Shovel (@The_Shovel_) April 18, 2016
The weirdest thing about Johnny Depp's Australia apology video was that it didn't also star Helena Bonham Carter.

— Periwinkle Jones (@peachesanscream) April 18, 2016
Ultimately it doesn't really matter whether the couple's apology was sincere or not since Heard already succeeded in getting off with barely a slap on the wrist. That being said, the couple's definitely learned their lesson when it comes to what not to do when flying their pampered pooches by private jet.