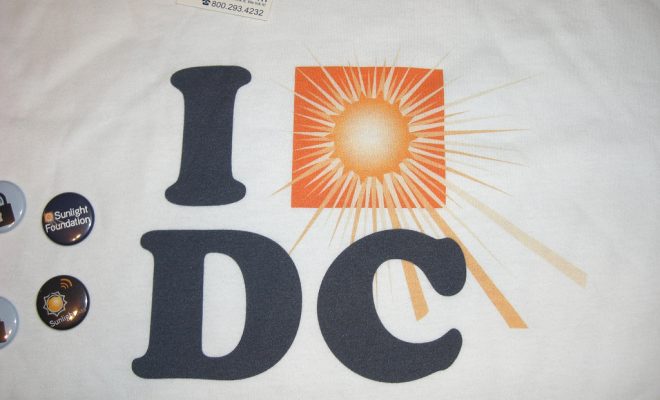 Image courtesy of [justgrimes via Flickr]
Technology
What's Happening with the Sunlight Foundation?
By
|
The Sunlight Foundation, a non-profit dedicated to providing transparency and accountability in politics, has announced that it's suspending some of its popular reporting tools and considering mergers with other like-minded organizations. It seems likely that if it doesn't find an appropriate partner, the organization could be shuttered for good.
The Sunlight Foundation is best known for data-heavy tools like Politiwoops, Open States, and Scout that were favored by journalists and policy wonks.
There are a number of reasons for the Sunlight Foundation's struggles in recent years, according to a statement released by its chairman Mike Klein. Klein lists the organization's struggle to find a new executive director, as well as its difficulty keeping its variety of tools funded and well maintained as issues. Klein also seemed to chalk up some of the Sunlight Foundation's problems to the current technology and political climates, writing:
We are aware that the robust maturation of technology over the past decade has — happily but substantially — reduced the urgency of Sunlight's early role as a leading transparency innovator. In addition, the board had to recognize that Sunlight's initiating objective— to build support for better legislation against and regulation of the power of money in politics— has been significantly limited by the US Supreme Court's 5-4 Citizens United decision.
There are also reports of layoffs for the Sunlight Foundation's staff; Poynter reports that the Sunlight Foundation has laid off or is in the process of laying off five members. Poynter also explains that these layoffs track with a downward trend in members of the Sunlight Foundation's staff over the last few years, stating:
Today's reductions notwithstanding, the current headcount at The Sunlight Foundation is about 20, roughly half of what it was in early 2014, according to a source at the nonprofit. In the last two years, Sunlight has trimmed staffers working for its news and technology divisions.
No one really appears to know what to make of the organization's announcement, although journalists who have relied on the organization's tools were by and large upset:
Open government advocacy group Sunlight Foundation cuts staff, suspends reporting toolshttps://t.co/yDyOzoa6nx pic.twitter.com/kJX1QcT4nf

— Hadas Gold (@Hadas_Gold) September 20, 2016
Heartbreaking. @SunFoundation's legacy is immense. A huge influence on open data and data journalism and on me personally. https://t.co/7OhO5huO7M

— Scott Klein (@kleinmatic) September 20, 2016
the impact @SunFoundation had on government, journalism, the open data movement, and so much more is p much unparalleled. a *huge* loss.

— dan sinker (@dansinker) September 20, 2016
This is very sad/worrying news from @SunFoundation.https://t.co/7WPts0Ep02

— Ben Casselman (@bencasselman) September 20, 2016
It's unclear exactly what happened to the Sunlight Foundation–whether it's a lack of funding, vision, some combination of the two, or something else altogether. But for those of us who feel strongly about the power of data to shed light on our government, this is upsetting and concerning. While a merger may keep the organization alive, at least somewhat, there's no doubt that this is in some ways the end of an era.