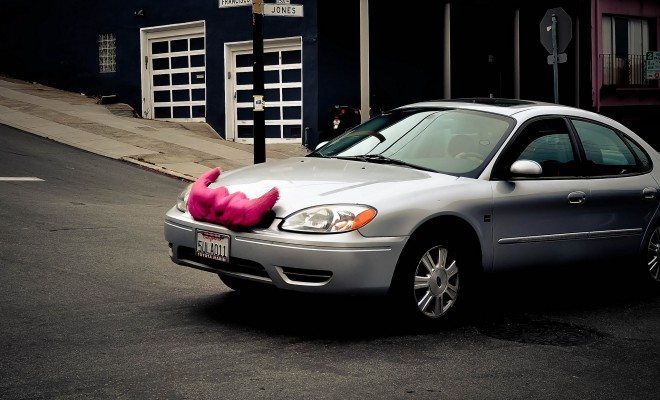 "Lyft" courtesy of [Spiros Vathis via Flickr]
Technology
Uber and Lyft Pull out of Austin After Voters Keep Strict Regulations in Place
By
|
Do you need to order a quick ride in Austin, Texas? You may now be out of luck, or forced to call a cab, because both Uber and Lyft are pausing their operations in the city for now.
This big move comes after voters in the city rejected a ballot measure that would have loosened regulations on the kinds of services ridesharing companies provide. The regulations were adopted late last year after the legislation was passed by Austin's City Council, but the ballot measure was posed to Austin's voters this Saturday. While both Uber and Lyft lobbied hard for its passage and spent a combined $8 million plus in lobbying, 56 percent of Austin's voters cast their ballots against the measure.
The Austin regulations essentially required Uber and Lyft to be treated more like taxis. One of the biggest points of contention was that they required that the companies run the fingerprints of the drivers they hire–Uber and Lyft pushed back against that regulation because both companies conduct their own internal background checks. According to the Wall Street Journal:
Austin also prohibits drivers from stopping in traffic lanes for passenger drop-offs and pickups, includes requirements for identifying vehicles for hire and imposes data reporting on the ride-hailing companies.
Austin is a major tech hub with a recent large influx of young people, so the fact that Uber and Lyft would rather give up that market than comply with the regulations makes quite a strong statement. Uber has additionally threatened to leave Houston, where similar regulations are under ongoing debate. Both companies also followed through on their threat in San Antonio, after that city made fingerprinting mandatory. Neither operated within San Antonio limits until the city made fingerprinting voluntary instead of required.
Statements from both companies echo these sentiments. Lyft's spokesperson Chelsea Wilson said:
Lyft and Austin are a perfect match and we want to stay in the city. Unfortunately, the rules passed by City Council don't allow true ride-sharing to operate.
Uber's Austin general manager, Chris Nakutis, talked a local news outlet and stated: "Disappointment does not begin to describe how we feel about shutting down operations in Austin."
Uber and Lyft are now in a game of chicken with Austin–and there's really know way to tell who will swerve first.