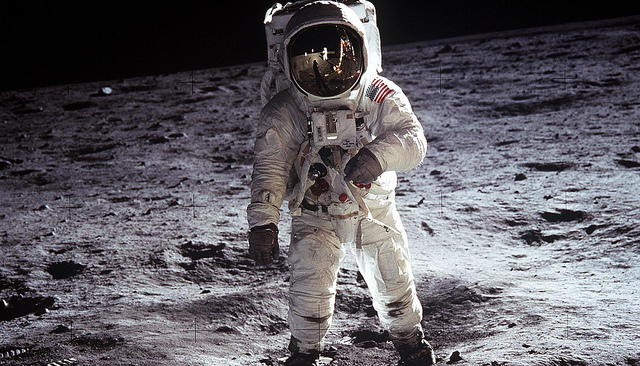 Image Courtesy of [Marc Van Norden via Flickr]
Technology
A Private Company Just Got the OK to Travel to Moon
By
|
The U.S. government just gave a Florida-based company permission to travel beyond the Earth's orbit and land on the moon, making it the first company to be cleared for a private space mission. Moon Express announced on  its website Wednesday that it received the green light to send a robotic spacecraft to the moon in 2017, potentially ushering in a new era of commercial space exploration and discovery.
The approval for the Moon mission came from a collection of government agencies including the Federal Aviation Administration (FAA), the White House, the State Department, and NASA, after the company submitted an application for the mission to the FAA on April 8.
Moon Express is currently in competition for the Google Lunar XPrize, which promises to award a $20 million grand prize to the first team to successfully land a privately funded rover on the moon, travel 500 meters, and transmit back high definition video and images.
The space startup, with a home base in Cape Canaveral, was co-founded in 2010 by billionaire entrepreneur Dr. Bob Richards, Naveen Jain, and serial entrepreneur and computer scientist Dr. Barney Pell. Aside from hopefully establishing commercial space travel, the trio also wants to help solve the nation's energy crisis with help from the moon. In the video below, Naveen explains Moon Express' plans to eventually harvest valuable natural resources like Helium-3 and water from the Moon, to then transport back to Earth.
"The Moon Express 2017 mission approval is a landmark decision by the U.S. government and a pathfinder for private sector commercial missions beyond the Earth's orbit," said co-founder & CEO, Bob Richards in the company's media kit. "We are now free to set sail as explorers to Earth's eighth continent, the Moon, seeking new knowledge and resources to expand Earth's economic sphere for the benefit of all humanity."
According to Reuters, the company said that the spacecraft will carry a number of science experiments and some commercial cargo on its one-way trip to the lunar surface, including cremated human remains, and will beam back pictures and video to Earth. The mission will last two weeks and will use a suitcase-sized lander provided by Rocket Lab, another private aerospace company its in contract, which has yet to launch a rocket into orbit.
Unfortunately, this is not a precedent-setting case. While the U.S. government has approved Moon Express for one landing, it will continue to address future requests on a case-by-case basis until space laws can be passed that govern the practice.