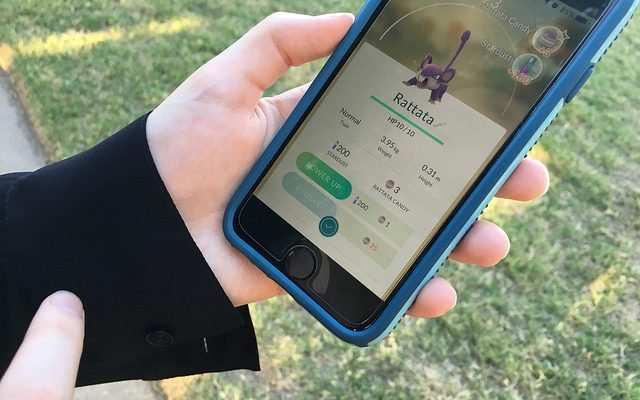 rattata Courtesy of [Robert Couse-Baker via Flickr]
Technology
Pokémon Go Players are Getting Robbed and Finding Dead Bodies
By
|
When you open the new augmented-reality app Pokémon Go, the first thing you'll see is a loading message warning: "Remember to be alert at all times. Stay aware of your surroundings." If you thought the message was slightly melodramatic, trust me, you're wrong. Since its Wednesday release date, the Pokémon-catching app has already been linked to armed robberies and a newly discovered dead body. So before you start roaming the streets searching for hiding Pikachus or gyms to capture, review this list of some of the weirdly dangerous encounters Pokémon Go players have faced.
Dead Body
Beware any dead bodies while searching for Pokémon. A 19-year-old from Riverton, Wyoming discovered a dead person while playing the game Friday night. Shayla Wiggins told Buzzfeed that she discovered the corpse while taking an early morning walk by Big Wind River to find some Pokémon.
Wiggins was struggling to find any Pokémon, so she walked down to the rocky river bank. "As I looked one way, I noticed that there was something in the water in front of me," she said. "And so I took a closer look and saw it was a body." When she finally realized it was in fact a body, she immediately called the police.
#News #Worldnews #Reddit Pokemon Go player discovers dead body in river https://t.co/F1HrqLbXy7 morgaine17 July 08… pic.twitter.com/4NyXIpOs4l

— Loren Brite (@PhilcamLoren) July 8, 2016
The Fremont County Sheriff's Office is investigating the death–the corpse was an adult male–which appears to be accidental in nature and possibly caused by drowning. 
Armed Robbery
In Missouri, four suspects–who some have already likened to the villainous Team Rocket–used the app to target players in order to rob them. According to the Washington Post,
What Pokémon GO has to do with armed robbery and a dead body https://t.co/lTqyRw43vt #808news pic.twitter.com/DsvwdDoIH9

— khon2 News (@KHONnews) July 11, 2016
According to a Facebook post from the O'Fallon Missouri Police Department,
[Police] were able to locate four suspects occupying a black BMW a short time later and recover a handgun. These suspects are suspected of multiple Armed Robberies both in St. Louis and St. Charles Counties. It is believed these suspects targeted their victims through the Pokemon Go smart phone application.
The suspects were able to target players using the app's pokestops–where players frequently gather–in remote areas, such as parking garages.
Injured Players
While the chances that you'll be targeted by criminals while using the app are very slim, you should be extra cautious about causing accidental harm to yourself. From minor cuts and scrapes, to fractured bones, players are already reporting some serious Pokémon-related injures.
So I have had my first injury while playing #PokemonGO. pic.twitter.com/KKEfeQiHKH

— Ashten (@TheaAylaPokemon) July 11, 2016
One Redditor with the username Amalthea- claimed,
Not even 30 minutes after the release last night, I slipped and fell down a ditch. Fractured the fifth metatarsal bone in my foot, 6-8 weeks for recovery. I told all the doctors I was walking my dog lol… Watch where you're going, folks!
Another player in New Zealand claimed to have face-planted while using his skateboard to search for Pokémon around his neighborhood.
Click here for a list of other injuries.
With users' heads buried in their phones instead of observing their surroundings, injuries like these are bound to happen. However, they are entirely preventable.  In an effort to remind distracted Pokémon Go players not to use their cellphones while driving, the Ohio State Highway Patrol crafted a hashtag #DontCatchAndDrive.
Playing #PokemonGo? Please #DontCatchAndDrive! We know you want to catch 'em all, but do so safely! pic.twitter.com/qaPoJ6fKgm

— Ohio State Patrol (@OSHP) July 11, 2016
For an explainer on what Pokémon Go is, check out the Washington Post's rundown here. And while obviously most people playing the game have been fine, it's always important to follow the game's instruction and pay attention to your surroundings.