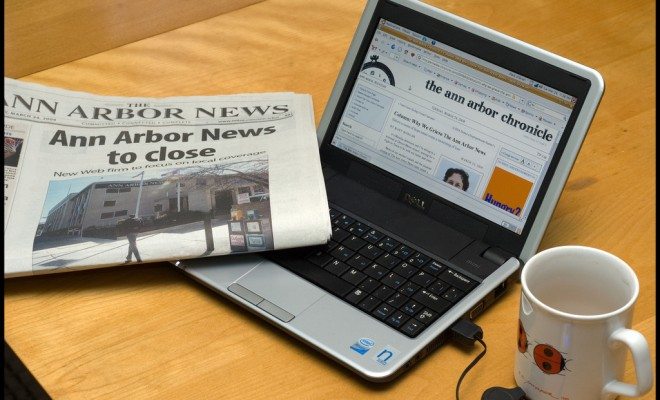 Image courtesy of [mfophotos via Flickr]
Technology
Industry Pros Discuss the Future of Digital Media
By
|
As a journalist, you get used to outsiders constantly questioning your profession, warning you about the death of print media and cable news. They all say that the future is the internet, and they're right. But digital journalism is no longer as unexplored as it used to be, and is instead jazzing up the place with new hope and new ideas. Digital media is maturing and since its popularity exploded a few years ago, it has had time to work its way through the awkward pubescent years while solidifying its position as the place to go for fast socially streamed content. In fact, yesterday afternoon I had the pleasure of visiting the Center for American Progress Action Fund for a panel hosted by ThinkProgress Founder and Editor-in-Chief Judd Legum discussing the future of digital media.
A distinguished assemblage of online news pros, including Buzzfeed Editor-in-Chief Ben Smith, Politico Editor Susan Glasser, Huffington Post Politics Managing Editor and Senior Political Reporter Amanda Terkel, and Jezebel Founder and Fusion Digital Voices Editor Anna Holmes, volunteered their predictions and concerns. Here are a few of my take aways:
Aggregation is Not Your Enemy
Huffington Post's Amanda Terkel is no stranger to aggregation–her site is built on the practice–but she defended her publication and what Legum jokingly called their "parasitic aggregation tactics" against the "agra-haters." She said it helped the media get into conversations while allowing people to engage with a number of outlets. The panel overwhelmingly agreed that aggregation's bad rep comes from outlets being unwilling to properly source their competitors material. Aggregation is good, if you give credit where credit is due.
Expecting to Mobilize Youth Through the Press is Futile
What made the Ferguson protesters so successful was their ability to use social media to mobilize thousands for their cause. News, however, can't be expected to work the same way. In Anna Holmes' experience, offering readers the facts and giving them the option to decide how to react organically works better than telling them what to do or feel. Contrived hashtags are also a no go–that kind of thing needs to happen organically as well.
.@BuzzFeedBen on John Oliver's impact: "When you're joking you can be serious, but when a news outlet preaches it can turn people off" #TP10

— Ben Wrobel (@BenWrobel) March 3, 2015
You Can't Bury the Spinach in the Brownie
There was a lot of talk about spinach and brownies on this panel, but the gist of what I got from Ben Smith's unique metaphor was that online news outlets need to find a balance between reporting on weird internet sensations like "The Dress" (the brownie) and hard hitting important pieces such as policy reform (the spinach). The plethora of online material allows readers to shuffle between the two without needing to be tricked by hiding one story in the other.
A good point from @BuzzFeedBen: people have always made choices about what they consume (entertainment vs. news). #TP10

— Zack Ford (@ZackFord) March 3, 2015

The panelists touched on several other interesting facets of digital media during the hour long discussion. If you're interested in seeing the entire panel discussion watch the video below.
Overall the panelists did a great job discussing what new age digital media has to offer while pointing out facets that can still be approved upon. As a journalist, it was definitely nice to hear something optimistic for a change when it comes to the future of journalism.
Thanks to the Center for American Progress Action Fund for its great work on this event.