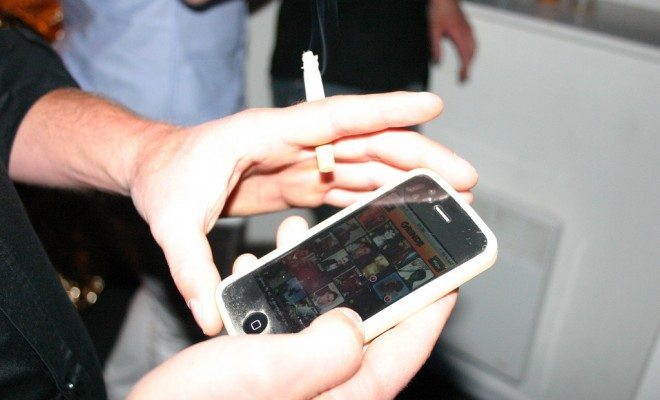 Image courtesy of [Amanda Hinault. via Flickr]
Technology
Grindr Found Not Liable For Man's Sexual Encounter With Minor
By
|
Many sites that are intended for adults, such as dating sites, come with a disclaimer that states, "You must be at least 18 years or older to use this site." New Jersey native William F. Saponaro, Jr. was under the impression that warning was true when he logged into his Grindr account to meet available men. Instead Saponaro met up with a 13-year-old boy, had sex with him, and then was arrested for the act. Saponaro ended up being prosecuted for engaging in a sexual act with a minor.
According to the Washington Post, the mix up led him to sue the gay "hook up" app Grindr for negligence on the grounds that it was the ones who set him up with a minor in the first place. Despite Saponaro being 52 years old and presumably capable of discerning someone's age, he claims that he was operating under the assumption that Grindr's Terms of Service, which require its users to be at least 18 and older to use it services, were being enforced.
Unfortunately for Mr. Saponaro, the lawsuit was thrown out by a federal judge who determined that Grindr functions as an interactive computer service. As a result, it's covered by the federal Communications Decency Act and therefore could not be found negligent in this case.
New Jersey Chief U.S. District Court Judge Jerome Simandle stated:
Holding interactive service providers liable for third-party communications would have chilling implications for free speech on the internet.
Even though Saponaro claims he was tricked, he's hardly the first person to be duped when using an online dating site. MTV has captivated millions of viewers addressing that issue with its hit show "Catfish," which profiles people all across the country who have had their hearts swindled by online impostors. Even more recently, popular matchmaking app Tinder was used by a team of creative marketers to catfish users at the music, film, and tech festival SXSW.
Robots have taken over @Tinder at #SXSW. http://t.co/bkrOk5w0brpic.twitter.com/VYyiBhEJrv

— Maxim (@MaximMag) March 16, 2015
According to Techcrunch.com, a company promoting the movie "Ex Machina" created the fake account, Ava, using a photo of the star of the movie. Ava's profile was run by chatbots–computer programs designed to simulate intelligent conversations. These scripted robots sent her matches to an Instagram page (which has since been deleted) for the movie, revealing the whole thing was a sham.
Cases like these are only the tip of the iceberg when it comes to examples of online impersonation. They should come as no surprise when our current digital landscape makes lying about your age, name, or even what you look like far too easy. For that reason users should be more cautious when looking for love online, because as seen in the case of Mr. Saponaro, you are solely responsible for verifying someone is who they say they are .