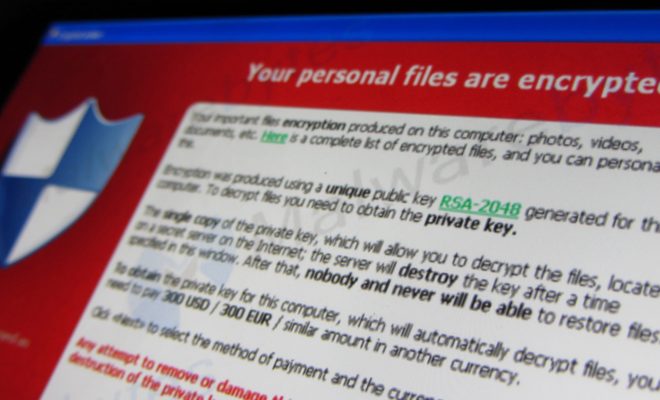 "Cryptolocker ransomware" courtesy of Christiaan Colen; license: (CC BY-SA 2.0)
Technology
Global Cyber Attack Put British Hospitals Out of Commission
By
|
On Friday, a massive cyber attack hit several nations in Europe and Asia, and disrupted the computer systems at multiple British hospitals. Patients were turned away as hospital staff couldn't access the computers, and appointments had to be cancelled. The BBC reports that as many as 74 countries were affected, and security researchers believe all of the incidents are related.
The British public health system, National Health Service, advised people to only seek medical help at hospitals if it was an emergency. Ambulances were redirected to other hospitals. The screens on the hacked hospitals' computers showed a message from the hackers each demanding $300 in Bitcoins within three days to unlock the information.
BREAKING: Multiple NHS trusts across UK under malware attack. Actual screenshot of the threat ppl are seeing: https://t.co/ZBm6a7ImwQ pic.twitter.com/7NVy8xvfyD

— Shaun Lintern (@ShaunLintern) May 12, 2017
The technique behind the attack is so-called "ransomware," which basically is a type of software that infects a digital machine and locks its functions until a ransom has been paid. The name of this particular malware is "Wanna Cry," also known as "Wanna Decryptor."
36,000 detections of #WannaCry (aka #WanaCypt0r aka #WCry) #ransomware so far. Russia, Ukraine, and Taiwan leading. This is huge. pic.twitter.com/EaZcaxPta4

— Jakub Kroustek (@JakubKroustek) May 12, 2017
Several experts believe the cyber attack is linked to a hacker group called The Shadow Brokers–the same group that claimed in April that it had stolen and released malware created by the National Security Agency, NSA. It was not exactly clear what the groups' motive was–it said it wanted to protest President Donald Trump, but also that it opposed the removal of Steve Bannon from the National Security Council.
The hackers also claimed they are "not fans of Russia or Putin," but security experts said they could possibly be associated with the Russian government. One chief executive of a cyber-security firm, Jake Williams, said, "Russia is quickly responding to the missile attacks on Syria with the release of the dump file password that was previously withheld."
Could we be seeing the largest cyber attack in history? Organisations in 74 countries now hit including FedEx and NHS #ransomware #WannaCry

— Lisa Forte (@lisaoncyber) May 12, 2017
Other companies that were affected include Spanish electric company Iberdrola, utility provider Gas Natural, University of Milano-Bicocca in Italy, Portuguese telecommunications provider Portugal Telecom, and FedEx. The largest telecommunications company, Telefonica, was also hit, but the attack reportedly didn't affect any customers. It seemed to be a new kind of ransomware, and it spread fast. Some said it seemed to be a worm–a malware program that spreads by between computers, like a virus.
In Britain, the NHS is facing criticism for not doing enough to protect its computer systems against attacks like these. The hacker group became known two months ago, and Microsoft released a program that could protect against its malware. But not all NHS computers installed it. Ross Anderson from Cambridge University is one of the critics. "If large numbers of NHS organizations failed to act on a critical notice from Microsoft two months ago, then whose fault is that?" he said.