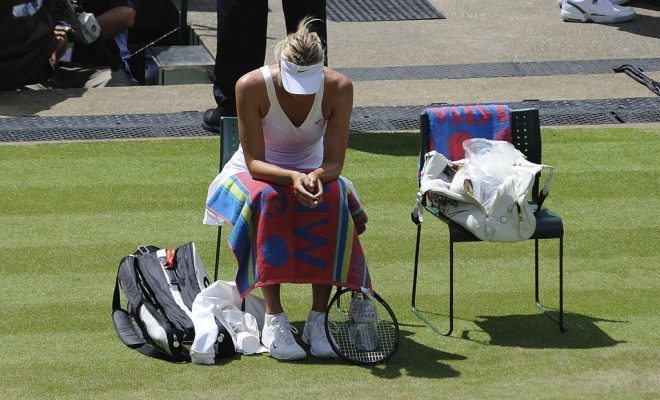 Image courtesy of [Justin Smith via Flickr]
Sports
Independent Tribunal Suspends Sharapova For Two Years After Banned Substance Use
By
|
At a hearing in London two weeks ago, Maria Sharapova–accompanied by her coach, agent, and former doctor–testified about her use of Meldonium, a heart drug banned by the World Anti-Doping Agency (WADA) as of January 1, 2016. On Wednesday, a three-person independent tribunal slapped a two-year suspension on the Russian tennis star, barring her from competition until January 2018, two full years after she initially tested positive for the drug at the 2016 Australian Open, just days after Meldonium was reclassified as an S4 drug–a prohibited hormone and metabolic modulator–by WADA.
The 29-year-old, a five-time Grand Slam winner and the world's highest earning female athlete, has been taking Meldonium for ten years. It is only available in Latvia, Russia, Georgia and a few other eastern European countries and has not been approved by the FDA. Meldonium improves blood flow and aerobic activity, and hundreds of athletes–many Russian–have turned to it to enhance performance. Sharapova cited health concerns and nutrient deficiency in her decade-long use of the substance.
Sharapova claims she continued using Meldonium, also known as Mildronate, after it was reclassified as prohibited because she was unaware of its new classification. She admitted to using the drug however, which may have contributed to a two-year ban instead of the max four-year sentence. The tribunal–made up of two doctors and a WADA lawyer–recognized her unintentional breach of Meldonium's new prohibited status, but also acknowledged her actions "knowingly and manifestly disregarded the risk of contravening the anti-doping rules."
According to the tribunal's investigation, Sharapova began using Meldomium in 2006, when a doctor in Moscow prescribed her the pills as part of a regimen to address, in the words of that doctor, the "correction of functional reserves." In detailed messages to Sharapova in 2006, Dr. Skalny, her former doctor, wrote: "During games of special importance, you can increase your Meldonium dose to 3-4 pills (1 hr before the match). However, it is necessary to consult me on all these matters (please call)."
On her Facebook page, Sharapova announced her intentions to appeal the tribunal's decision with the Court of Arbitration for Sport:
While the tribunal concluded correctly that I did not intentionally violate the anti-doping rules, I cannot accept an unfairly harsh two-year suspension. The tribunal, whose members were selected by the ITF, agreed that I did not do anything intentionally wrong, yet they seek to keep me from playing tennis for two years.
"I intend to stand for what I believe is right and that's why I will fight to be back on the tennis court as soon as possible," she added.