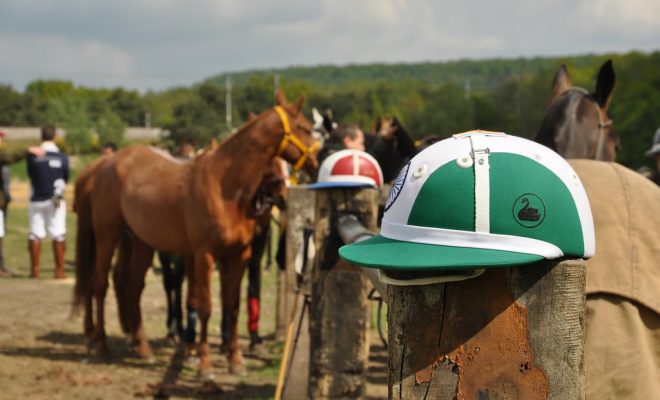 Image courtesy of 1Ari; License: (CC BY-ND 2.0)
Sports
Shariah Harris Just Became the First Black Woman in a Top-Tier Polo Tournament
By
|
A 19-year-old college student just made history by becoming the first black woman to play in a top-tier polo tournament. Shariah Harris plays on Cornell's college polo team; she and her teammates got all the way to the national semifinals this year.
But on Friday, Harris was part of the Postage Stamp Farm team in the Silver Cup tournament at Greenwich Polo Club in Connecticut.
Harris' love for riding began when her mother got lost while they were driving 12 years ago. They ended up at a farm in Fairmount Park, Philadelphia, where the nonprofit program Work to Ride happened to be based. This program lets children from low-income households learn how to ride and perform in equestrian sports. Harris very quickly became a star.
⭐️Postage Stamp Farm's Shariah Harris is the 1st African-American to play @ 20-goal level⭐️⭐️#historyinthemaking #SilverCup @GreenwichPolo pic.twitter.com/QJcanICnTu

— US Polo Association (@PoloAssociation) June 29, 2017
As her mother was a single parent with three children, this was an awesome opportunity for Harris to learn equestrian sports. But it's not all fun and games. To take part in the program, the kids had to muck the stables, take care of the horses, and often perform other tasks like maintaining the facilities. They also needed to keep certain grades to remain qualified for the program. Harris not only became a pro on horseback, but also received a scholarship to Cornell University.
When Harris traveled to Argentina to play polo, she met Annabelle Garrett, the owner of the Postage Stamp Farm team, as well as a player. Earlier this year, Garrett injured her back and got in touch with Harris to ask her to take her spot on the four-person team for the upcoming tournament in Greenwich. About Harris, she said, "She's absolutely a pioneer. This is a white-male-dominated sport. This is 100 percent groundbreaking. And she can ride."
Shariah Harris of #PostageStampFarm as seen at @GreenwichPolo for the #Silver up 2017 @SuicaClaudia for @PoloHUBsocial #media #polo pic.twitter.com/cpHPXEh2ue

— ClaudiaPoloLifestyle (@SuicaClaudia) June 30, 2017
Although what Harris is doing is groundbreaking, it hasn't come without hurdles. Polo is traditionally a male-dominated sport, and women have only recently begun to participate. In the 1950s, Sue Sally Hale played, but she pretended to be a man and wore a fake mustache to be able to participate. Hale played in a disguise for 20 years, and in 1972, women players were finally allowed. In 2000, her daughter Sunny Hale became the first woman to compete for a winning team in the US Open.
Harris said that she has met some racism in the form of inappropriate comments, whispers, and stares. But she also said, "If me playing will mean opportunities to play for other kids like me, then I'm perfectly happy to be breaking down doors. I just keep quiet, put on my boots and go out and play."