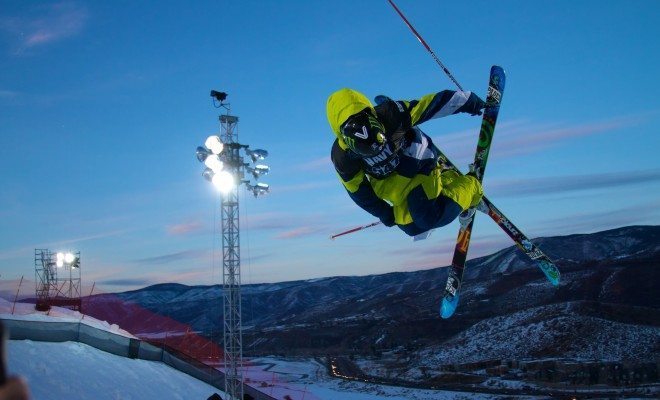 "X-Games!" courtesy of [Zach Dischner via Flickr]
Sports
The Real Competition in Aspen: Sponsorship Deals at the X Games
By
|
At this year's X Games in Aspen, Colorado, 13-year-old Estonian skier Kelly Sildaru took home the gold in the women's ski slopestyle event, garnering praise from her fellow athletes and attracting attention from corporate sponsors. Sildaru has been offered a sponsorship from ROXY as a reward for her athleticism, becoming one in a long line of exceptional athletes who  have committed to sponsorship deals at a young age.
Sponsorship is defined by the IEG Sponsorship Conference as "cash and/or in-kind fee paid to a property  in return for access to the exploitable commercial potential associated with that property." Sponsorship costs can include equipment, travel fees, training fees, and a host of other expenses that an athlete would not be able to cover on their own dime. Once an athlete accepts sponsorship from a company, they often effectively agree to promote the company: wearing the company's logo, using that company's products and promoting that company among their peers. By sponsoring the athlete, the company will profit within the elite circles of a given sport but if they want to advertise their brand to the general public, they will ask their athlete to commit to a celebrity endorsement–print, radio, or television advertisements for the company's products.
Some companies, such as Contour HD, require their sponsored athletes to endorse their products in interviews and on social media while others pay their athletes for endorsements in addition to their sponsorship contract. In many American high school and college level athletics programs, athletes are prohibited from striking endorsement deals (which has often been cited as an unfair practice) but in the less traditional world of winter sports, athletes as young as Sildaru may strike sponsorship deals without any penalty.
Sponsoring athletes in extreme sports was once considered risky, as it did not connect with a large enough consumer base, but as these sports become more popular, the sponsorship deals surrounding them become more attractive. The X Games 2016 were sponsored by AT&T, Coors Light, Intel, LifeProof, America's Navy, GoPro, Harley-Davidson, Jeep, Monster Energy, Oakley, Polaris, Skype, and Xbox. Several of these companies hosted welcoming events and their logos were prominent throughout the competition, cropping up on jackets, helmets, snowmobiles and tents. During the broadcast of the X Games, commentators were not obligated to "endorse" any of the sponsors but they were required to mention the names of the sponsors at the opening of the broadcast.
Most athletes rely on sponsorship as a primary source of income and actively court endorsement opportunities. The idea of competing in a sporting event for the sheer joy and thrill still exists for many athletes, but it is complicated by the pressure placed on athletes to attract sponsors. Winning a gold medal results in a sense of pride and the respect of fellow athletes, but it also is a surefire path to a sponsorship deal. Chris Tierney, father of X Games snowboarder Meghan Tierney, stated in a recent interview that
In my eyes, from a marketing standpoint, most snowboarders would say that the Olympics and the X Games go hand in hand.
The X Games pride themselves on celebrating bright, young talents in the extreme winter sports world–but over time, the competition has become less about the sport and more about the sponsorship. The Olympics have been dominated for years by their McDonald's and Coca-Cola sponsorship and the X Games may be taking the same path. Sponsorship is a major boon for any athlete hoping to carve out a long-term career in their sport but it also shifts the ultimate goal of the Games from athletic excellence to financial solvency.