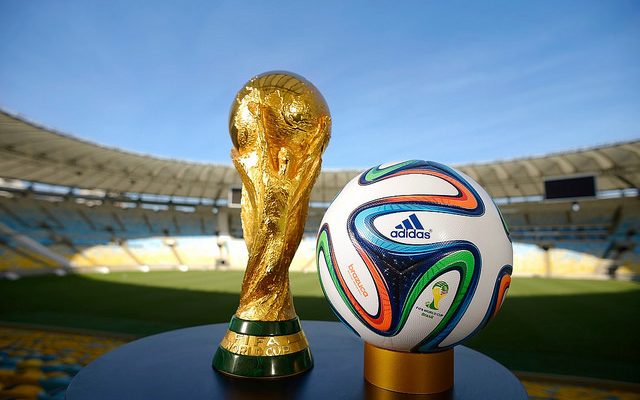 "The World Cup" Courtesy of Mariya Butd, License (CC BY 2.0)
Sports
Qatar at Risk of Losing 2022 World Cup Due to Gulf Crisis
By
|
Soccer, according to FIFA, is a "beautiful game" meant to "inspire the world and increase international cooperation." However, for Qatar–FIFA's 2022 World Cup host country–it may actually be causing unrest in the Middle East.
Qatar is in jeopardy of having its World Cup plans derailed, after some of the most powerful nations in the Arab world broke diplomatic ties with the Gulf state Monday.
Egypt, Saudi Arabia, and the United Arab Emirates (UAE) accused Qatar's government of sponsoring terrorist organizations, such as Al Qaeda and Islamic State, to provoke violence in the Middle East.
The diplomatic crisis may be the final straw in a flood of controversies plaguing the world's richest country since it was formally elected by FIFA to host the World Cup soccer tournament back in 2010.
Qatari sports officials have been accused of giving bribes to members of FIFA in exchange for their vote for the World Cup, and there has been backlash over whether or not hosting a Winter World Cup will disrupt club soccer league seasons throughout the world.
It's also unclear if Qatar will be open to the LGBTQ community–Qatar has strict laws against homosexuality (former FIFA president Sepp Blatter's solution to this problem was for gays to simply not have sex while in Qatar).
Furthermore, there have been multiple news investigations into the alleged abuse of migrant workers from Nepal and India, who were brought in to build the infrastructure needed to accommodate millions traveling to Qatar for the World Cup. These workers are said to live in horrendous conditions, have slave-like wages, and have had their passports illegally taken from them.
But these are just a handful of the dozens of accusations against the Qatar government, and FIFA as well.
Qatar relies heavily on the use of its neighbors airspace; therefore, the end of diplomatic relations with Bahrain, Saudi Arabia, and the UAE will make travel in and out of the country extremely difficult. Qatar's singular land border with Saudi Arabia will also hinder the country's ability to bring in materials needed for major infrastructure projects.
No decisions have been made by FIFA, but officials are said to be "in regular contact" with Qatar's government. But with Qatar spending an estimated $220 billion toward the soccer tournament (10 times what Brazil spent on the 2014 World Cup), don't expect the country to fold easily on its investment.