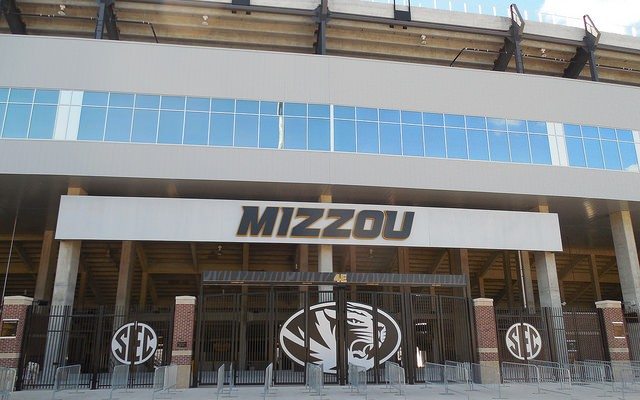 Image Courtesy of [Jimmy Emerson, DVM via Flickr]
Sports
Missouri Lawmaker Withdraws Bill to Ban Student-Athletes From Striking
By
|
A controversial new bill that would have banned Missouri student athletes from striking was abruptly withdrawn Wednesday after public backlash called the restrictive legislation unconstitutional.
Republican state Representative Rick Brattin withdrew the bill (without comment) that he and co-sponsor state Representative Kurt Bahr had submitted Friday. If approved, the legislation would have revoked a scholarship from any student athlete that "calls, incites, supports, or participates in any strike or concerted refusal to play a scheduled game."
The proposal was in direct response to a massive strike at the University of Missouri, where over 30 football players refused to participate in any football activities until the university's System President Tim Wolfe resigned. Wolfe had been deemed unfit by students after mishandling a series of racist incidents on campus.
The team arrived at the decision to strike after graduate student Jonathan Butler's life-threatening hunger strike failed to provoke any action from the university. On November 7, Sophomore safety Anthony Sherrils announced the strike on Twitter in a message that read,
The athletes of color on the University of Missouri football team truly believe 'Injustice Anywhere is a threat to Justice Everywhere' We will no longer participate in any football related activities until President Tim Wolfe resigns or is removed due to his negligence toward marginalized students' experiences. WE ARE UNITED
We're black. Black is powerful. Our struggle may look different, but we are all #ConcernedStudent1950 pic.twitter.com/obCjSWCFVY

— HeMadeAKing (@1Sherrils_2MIZZ) November 8, 2015
Three days later Wolfe resigned, and as a result the team did not miss a scheduled a game.
Bahr told the Kansas City Star that the incident prompted him to re-examine the relationship between student-athletes and the universities where they play. Bahr said,
The student has a right to protest or to make their voice heard, but if they have a contract to perform certain duties, and they violate that contract … then it's not an issue of the First Amendment. It's an issue of contract law. They failed to uphold that contract.
Kansas State Rep. Brandon Ellington, however, disagreed. The Democratic legislative black caucus chair said in a statement to the AP, "this unconstitutional legislation never should have been filed in the first place." Ellington also applauded Brattin's decision to withdraw the bill saying,
Seeking to punish those who peacefully take a stand against racial injustice violates not only the constitutional right to free speech but the values we hold as Missourians. Given the overwhelmingly negative response to his misguided and offensive proposal, I hope Representative Brattin finally understands that.
But the unfortunate thing is, Brattin and Bahr will probably never understand how offensive the proposal was. These men attempted to take away students' fundamental rights to freedom of speech and assembly, because they'd rather Missouri players be on the field getting physical than standing up for something political. If they keep this up, Missouri may run into some issues recruiting quality players in the future.