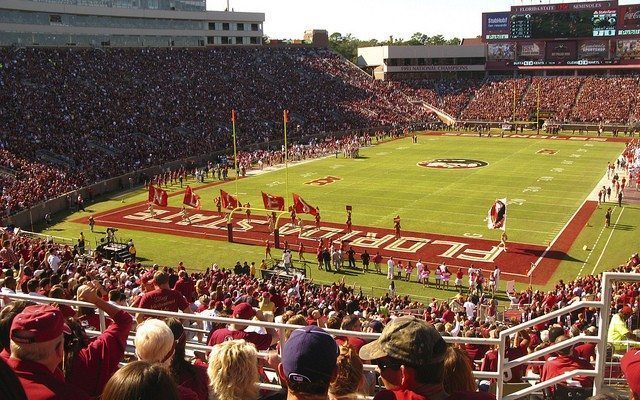 Image courtesy of [Stab at Sleep via Flickr]
Sports
FSU Quarterback Pays the Price for Bar Brawl with Young Woman
By
|
Within the past few years there have been multiple cases of athletes putting their hands on women and suffering the consequences. Baltimore Raven's running back Ray Rice and Texas Tech football player Nigel Bethel II both recently assaulted women and were dismissed from their teams. But most recently, Florida State University's Quarterback De'Andre Johnson has made the news after an altercation with a young woman at a bar.
On June 24th at a night club called "Yiannis," 19-year-old Johnson was caught on video shoving past a woman–a 21-year-old FSU student–waiting in line for her drink as he made his way to the front of the bar. The two then began to argue and the woman proceeded to hit him in the face. Johnson grabbed her arm and punched her across the left side of her face.
According to the Tallahassee Police Department incident report, the woman had bruises near her left eye, swelling of the left cheek and upper lip, and a small cut near the bridge of her nose. Jose Baez, Johnson's well-known criminal defense and trial attorney stated on Monday:
While it is clear from the video that De'Andre Johnson was not the initial aggressor, his family wants to take the lead in helping him learn and grow from this experience. He is currently participating in community service and faith-based programs focused on battered women, substance abuse and the empowerment of children…De'Andre is extremely embarrassed by this situation and would like to express his heartfelt apologies to everyone, including those who were directly affected, Coach Fisher and his teammates, the entire Florida State University community, as well as his family and friends.
The Florida State Seminoles head coach Jimbo Fisher announced that Johnson had been suspended indefinitely from the FSU football program on June 25th. This week, just hours after the state's attorney's office released the video, Coach Fisher dismissed the freshman quarterback from the team. Johnson, who was named Florida's "Mr. Football" as a senior at First Coast High School in Jacksonville was charged with misdemeanor battery. He turned himself in to Tallahassee police on June 30th and was released on a $500 bond. According to FSU's athletics policy, if a student-athlete is charged with a misdemeanor or felony, or convicted of a misdemeanor offense, the department makes a decision on discipline on a case-by-case basis.
This is not the first time an FSU football player has been in the headlines due to trouble off the field. Jameis Winston, the former Florida State University quarterback-turned-top NFL draft pick, was accused of rape in 2012. Winston claimed the charges were false and they were eventually dropped. It does not seem that Johnson will be as lucky as Winston was.
While this might seem like a straightforward case of yet another instance of violence from a promising young football player, there is another thing worth noting–a double standard. Although Johnson was obviously very much in the wrong, the woman who hit him has not yet been charged. I have always been a firm believer that no man should ever put his hands on a woman, but I am also a believer that no woman should put her hands on a man, and I'm not alone.
I think De'andre Johnson should be kicked out of FSU and charged with battery, but the woman (clearly the aggressor) should be charged too..

— Marcus Aurelius (@marcusjordandoe) July 7, 2015
Everyone deserves to be punished if they behave inappropriately and violently. The student who was hit should be charged for hitting him as well–regardless of the high profile nature of this case, respect should still be key. Obviously, Johnson's behavior was completely over the line here; by putting his hands on the woman he lost the respect of many and a promising future. Violence is never the answer–that's a lesson worth repeating again and again.