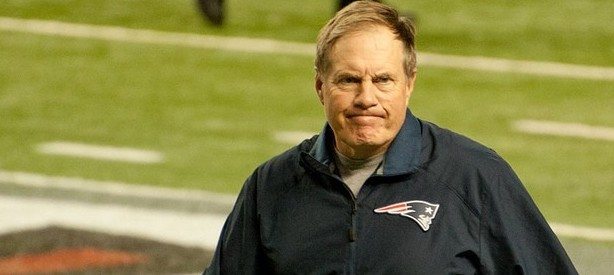 Image courtesy of [Football Schedule via Flickr]
Sports
Deflategate: Patriots Caught Deflating AFC Championship Game Footballs
By
|
Looks like Patriots' Coach Bill Belichick has found himself at the center of yet another cheating scandal, this time over his balls. The NFL has found that 11 out of 12 of the New England Patriots' game balls were under-inflated during their 45-7 victory over the Indianapolis Colts in the AFC Championship game on Sunday.
According to ESPN, the NFL's subsequent investigation found that the footballs were inflated two pounds per square inch below what is required by NFL regulations. This apparently went unnoticed by the referee, Walt Anderson, who checked and approved both team's footballs a little over two hours before kickoff.
So how do under-inflated footballs provide a competitive advantage? In an interview with NPR, scientist Ainissa Ramirez, author of "Newton's Football," explained that it helps improve the grip. She stated:
Particularly during that game which was very rainy, it's hard to hold the ball, it's hard to catch the ball. So by making it a little softer, it's easier to catch the ball.
Patriots' Quarterback Tom Brady tried laughing off the ball-tampering allegations Monday saying, "I think I've heard it all at this point," but I doubt he's laughing now. In fact, he's probably putting his head under the covers after a 2011 radio interview surfaced in which Brady admitted he likes deflated balls. I find it highly unlikely that Brady would not have noticed that the balls were lighter throughout the game, but there's no way he would ever admit it.
This isn't the first time that Belichick's coaching methods have been under fire. In 2007 he was disciplined by the NFL for a videotaping controversy dubbed "Spygate." He was caught recording the New York Jets' sideline coaches' signals during a September 9, 2007 game. He was fined the largest fine ever imposed on a coach in NFL history–a total of $500,000. The Patriots were also fined $250,000 and stripped of their 2008 first round draft picks.
The NFL is choosing not to comment at this time, so it's yet to be determined what penalties might be imposed. It's highly likely that the Patriots will end up being fined and lose their draft picks as well, but that will have to be determined by the NFL. So far, the Patriots are still scheduled to play the Seattle Seahawks in the Super Bowl XLIX on February 1st.
The league should be taking this scandal very seriously. Personally, I think the Patriots should be disqualified from playing in the Super Bowl game. Even though they defeated the Colts by a landslide, cheating is cheating and this scandal threatens the integrity of the game. More fines and lost draft picks are going to be just another slap on the wrist, but taking away the chance at a championship ring will really hurt. Fans and players alike on Twitter seem just as outraged.
11 of 12 balls under-inflated can anyone spell cheating!!! #Just Saying

— Jerry Rice (@JerryRice) January 21, 2015
If you get 100% on a test and only cheat on half of it… It's still cheating. It doesn't matter what the score was. #Patriots

— James Rapien (@JamesRapien) January 21, 2015
Breakfast of cheating champions. #patriots cheaters pic.twitter.com/3FFAzLpw0j

— merlisa (@merlisa) January 21, 2015
However, no matter what happens, in an effort to make light of the situation we can always rely on the internet to quickly add some well-timed "balls" jokes. So before you go, enjoy this wonderful Patriots-Cialis parody video.