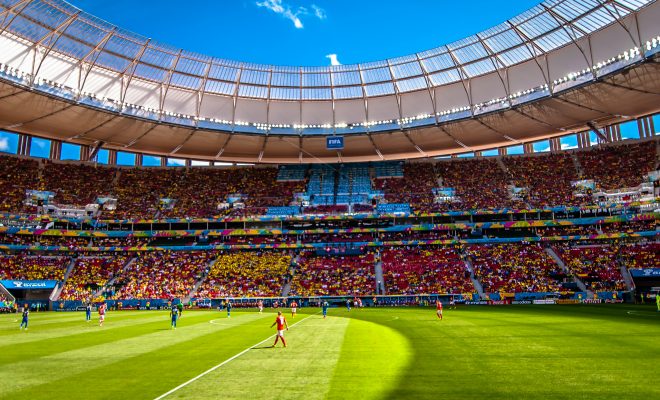 Image courtesy of A C Moraes; license: (CC BY 2.0)
Sports
Outrage in Brazil After Team Signs Soccer Player Who Murdered His Girlfriend
By
|
Misogyny in Brazil is in the spotlight after soccer club Boa Esporte rushed to sign 32-year old goalie Bruno Fernandes de Souza, who was convicted of murdering his girlfriend in 2010. De Souza, widely known as just Bruno, only served seven years out of a 22-year sentence, and reportedly other clubs also tried to sign him as soon as he was released. Bruno was convicted of ordering the torture and dismembering of his former girlfriend, 25-year old model Eliza Samudio, and then having his friends feed her body parts to his dogs.
Samudio was also the mother of Bruno's child, and he ordered the murder after she demanded that he pay child support. Violence against women is a big problem in Brazil, and the announcement of Boa Esporte's two-year contract with Bruno sparked outrage from Samudio's family and others. "Women are outraged and so are the general public. It is as if he had gone unpunished," wrote Brazilian feminist activist Djamila Ribeiro.
Bruno had his ex-girlfriend murdered, dismembered & fed to dogs.

After just 7 years of a 22-year sentence, he's got a new club. Revolting. https://t.co/zsDuLQi4HZ

— Joe Crann (@YesWeCrann) March 13, 2017
At least three sponsors have withdrawn their support of Boa Esporte in the wake of this news, but the city of Varghina still backs the club. Samudio's mother filed an unsuccessful lawsuit asking for Bruno to be sent back to prison, as he might be posing a threat to her grandson. But Boa Esporte's president Rone Moraes da Costa defended the decision to sign Bruno, saying that he has served his sentence and that Boa Esporte is helping him get back on track, through the "dignity of work."
This explanation was not enough for protesters, especially after video clips emerged of Bruno celebrating his release from prison with champagne, and  outrage has continued both nationally and from overseas. A demonstration is planned outside the club's stadium and some fans have pledged to not watch the team play as long as Bruno is a part of it. Recently a group of feminists hacked the club's website.
ESPORTE INTERATIVO:

Boa Esporte's official site has been hacked by feminists, after announcing the signing of Bruno who had killed his GF. pic.twitter.com/IpVD5sSkrY

— Seleção Brasileira (@BrazilStat) March 13, 2017
Violence against women and girls in Brazil increased by 24 percent over the previous decade according to Amnesty International, and the government cut the Ministry of Women's Affairs, Racial Equality, and Human Rights last May. Brazil was named one of the worst countries in South America for young women. And as long as powerful organizations care more about publicity and money than standing up for victims of violence, change seems far off. But at least there are feminist movements on the rise. The Popular Feminist Front of Varginha, the group that plans the demonstration at the stadium, wrote in a Facebook post:
We protest both against this contract and against the willingness of the team and its sponsors to have their images linked to feminicide. A woman-killer must not be allowed a life acclaimed by the media. Bruno is no longer just a goalkeeper; his notoriety reflects the ease with which a woman's life is forgotten in the interests of a sporting career.