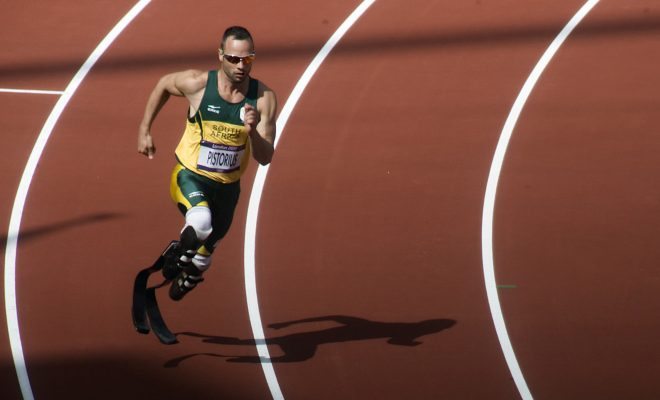 Oscar Courtesy of [Jim Thurston via Flickr]
Sports
Defense Psychologist Calls Oscar Pistorius A "Broken Man," Unfit To Testify
By
|
Former double-amputee Olympic sprinter Oscar Pistorius is a "broken man" and is unfit to testify at his sentencing for murder, according to the defense's clinical psychologist. Today marks the last week of Pistorius' highly publicized sentencing trial in South Africa, and a final sentence will be announced by Friday.
Dr. Jonathan Scholtz said Pistorius suffered from anxiety, depression, and post-traumatic stress syndrome, and putting him in jail would only worsen his mental state. Instead, Scholtz suggested that Pistorius be sentenced to community service or be hospitalized.
"Since the offence he has developed a serious psychiatric condition which has become worse over the past two years," Scholtz said. He also argued that Pistorius did not pose a threat to society, and further incarceration "would not be psychologically or socially constructive."
Here is a play-by-play of the hearing:
Oscar Pistorius is 'broken' and should be in hospital, sentencing hearing told https://t.co/p42Avg8KM4

— Guardian news (@guardiannews) June 13, 2016
In case you missed it, Pistorius was sentenced in 2013 for killing his girlfriend, Reeva Steenkamp on Valentine's Day. He said he thought she was an intruder–shooting her through the bathroom door four times.
Since the incident, Pistorius has sold all of his firearms and is still traumatized by the sound of them, according to Scholtz. The prosecution didn't buy it. Chief prosecutor Gerrie Nel suggested that Pistorius felt sorry for himself and had not shown true remorse. Nel also questioned Scholtz's claim that Pistorius was unfit to testify, stating he was perfectly fine to do an interview recently with a local television station about the killing.
Pistorius received some harsh backlash on Twitter for being labeled as unfit to testify.
Dear @OscarPistorius me and most people I know have 'not being rich anxiety disorder'. Please give us your money to help us overcome this

— Will Black (@WillBlackWriter) June 13, 2016
So murderers (Oscar Pistorius) and rapists (Brock Turner) shouldn't go to jail bc it'll impact them emotionally. When did jail become a spa?

— AL (@MissSchliez) June 13, 2016
Pistorius was charged with culpable homicide in October 2014, which carries a five year sentence and is similar to manslaughter in the United States. After serving a year in prison, he was released on house arrest. However, because of his athlete-celebrity status, he was unsurprisingly not treated the same as the rest of the prisoners. During his time in jail, he stayed  in a private cell in the hospital wing and he spent his time on house arrest kicking it at his uncle's mansion. In December 2015, his conviction was changed to murder in the Supreme Court of Appeals, which decided that whoever was behind the door was irrelevant because Pistorius should have known that pulling the trigger would cause death.
The minimum sentence for murder in South Africa is 15 years, but a judge can pare it down depending on the circumstances. Prosecutors and Steenkamp's family argued at the trial that Pistorius deliberately killed her after an argument, so they are working to ensure he receives the full 15 year punishment. However, Scholtz described Pistorius's relationship with his girlfriend as "normal" and "loving" with "no signs of abuse or coercion." Pistorius tried to overturn the upgraded murder charge earlier this year, but failed, which is why a new sentencing hearing was called this week.
Steenkamp was 29 when she was killed, an up-and-coming model, a law school graduate, and a budding reality TV star.
Pistorius, known as the "Blade Runner" for his carbon-fiber prosthetic legs, is known globally for being able to compete against able-bodied athletes, especially during the 2012 London Olympics. He has also competed in three Paralympics.
Judge Thokozile Masipa is presiding over the hearing—the same judge who originally convicted Pistorius.