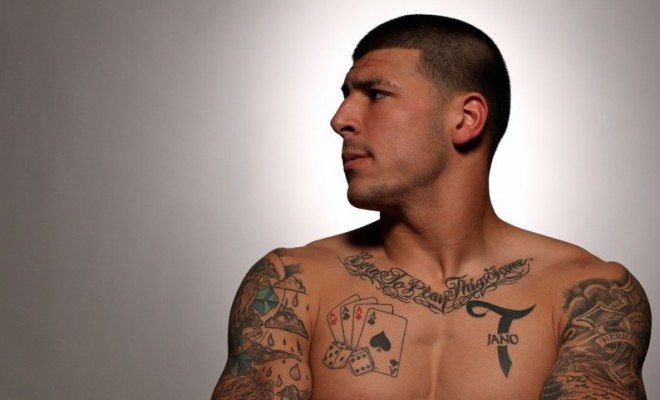 Image courtesy of [Aaron Frutman via Flickr]
Sports
Aaron Hernandez: Sheltered by His Own Talent?
By
|
Aaron Hernandez was found guilty yesterday of the first-degree murder of Odin L. Lloyd. Hernandez, a former tight end for the New England Patriots, will serve life in prison without the chance of parole. The legal troubles aren't over for Hernandez, however, as there are still two more murder charges for the former star. The high profile nature of these cases does now beg a question: how did a man with such a bright spotlight shone on him manage to keep his criminal behaviors in the dark for so long?
Hernandez's past is often described as a troubled one. He grew up in Bristol, Connecticut, was known to run with bad crowds from time to time, and other members of his family had relatively consistent run-ins with the law. But Hernandez's talent on the football field always seemed to propel him forward–he shattered Connecticut state records, was very successful playing as a Gator at the University of Florida, and then was a fourth-round draft pick for the New England Patriots. By the time he was arrested he'd made millions of dollars and was still young enough to have many good years in the NFL ahead of him.
He was the "pride" of his small town. But he's also a murderer–he's now been found guilty of shooting one man seemingly in cold blood, and it's looking pretty likely he'll get convicted in the 2012 murders of Daniel Abreu and Safiro Furtado. Hernandez allegedly shot them after Abreu bumped into him in a club and caused Hernandez to spill his drink.
There are really only two possibilities for what happened here. One is that he was such a brilliant manipulator that he managed to hide his violent tendencies from those around him. The other seems unlikely, although it's not a completely outlandish theory. Boston.com columnist Bill Speros wrote an op-ed in which he alleged that Hernandez is an undiagnosed psychopath. An interview from right after the Boston murders seems to lend at least some evidence to that theory. He joked and laughed with the media, saying that his summer was "private" but he "still had some fun." If he did indeed murder Abreu and Furtado, the fact that he could be so callous and removed just 11 days later certainly is a concerning sign.
I think there's a more likely scenario, however, and that's that there were plenty of warning signs, but that they were flat out ignored because of his star status. Take an oft-cited incident when he was in Gainesville, for example. He went out with some of his former teammates, got into a dispute over a check, and ended up punching a bouncer in the face. One of his teammates on the Patriots, Tully Banta-Cain, said in 2010:
A lot of guys come into the NFL haunted by the past. Some guys overcome it and some continue to be haunted throughout their careers if they're not able to disassociate themselves from certain people or certain atmospheres. Aaron may have fallen victim to that.
Aaron Hernandez spent his life thus far with people who were willing to look out for him because they saw promise, or because they saw that he was trying to overcome a "troubled" background. But in an atmosphere like that, it seems like he got away with a lot and those close to him let a lot of things slide.
That wouldn't be unheard of. The Steubenville rape scandal a few years back, for example, showed an almost textbook example of many people in a small town willing to forgive horrid crimes because of who the perpetrators were.
No one will ever really know how Hernandez–a man who ostensibly could have had a very bright future–ended up as a murderer. But one thing is certain: he's now going to pay the price.