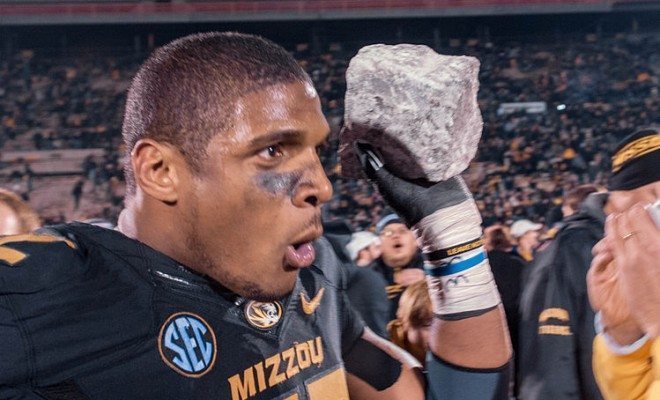 Sports
2 Laws That Could Encourage More Michael Sams to Come Out
NFL prospect Michael Sam revealed to the public this week that he is gay. Sam's decision is undoubtedly brave; if drafted (and he probably will be), he will be the first openly gay male professional athlete in a sport that manufactures traditional male stereotypes. But Sam is no stranger to bravery or to breaking stereotypes. Michael Sam was the first member of his family to attend college, and one of the few children of JoAnn Sam not to clash with law enforcement. Since Sam is used to breaking molds, he may not have needed legal protections to come out. But if we want to enable his choice in more workplaces, two laws could prompt similar behavior.
1. The Employment Non-Discrimination Act (ENDA): ENDA is a federal bill that would prohibit employment discrimination on the basis of sexual orientation or gender identity by employers with at least 15 employees. If enacted, ENDA would prohibit employers, employment agencies, and labor unions from using an individual's sexual orientation or gender identity for decisions such as hiring, firing, promotion, or compensation (read the Human Rights Campaign's breakdown of the law here). Despite the growing support for ENDA, Govtrack.us gives the bill only a 14 percent chance of becoming law.  Without it, many LGBT employees could face the painful dilemma of lying to co-workers about their identities or risk losing their employment (although it's worth noting that 21 states plus the District of Columbia have adopted similar laws). ENDA does have friends in Washington however, and is rumored to become law for federal contractors through executive order.
2. Workplace Bullying Legislation: This type of legislation is another means to combat discrimination at work and thus possibly encourage LGBT employees to be comfortable at their own jobs. Unlike ENDA, workplace bullying laws may provide private claims for employees against other employees who bully or create toxic working environments through bullying. Some state legislatures have proposed insulating employers who act responsibly to thwart workplace bullying. Despite the growing trend of anti-bullying laws being passed on behalf of public schools, workplace bullying legislation has not been enacted in any U.S. State or at the Federal level. The lack of seriousness regarding workplace bullying laws may soon be a thing of the past, however. Sixteen states have proposed workplace bullying laws since 2009, and the high profile case involving the alleged harassment in the Miami Dolphins locker room may push this issue to the forefront.
Michael Sam's revelation fortunately lacked the backlash that many expected. Sam's former teammates on the Missouri Tigers supported him when he privately came out, and several prominent athletes showed support for Sam when he  revealed the news publicly. But tolerance can be fleeting, and Sam's journey is just beginning.  With laws in place to protect LGBT individuals from workplace discrimination or harassment, his journey is more likely to have a happy ending, and more likely to prompt others to follow in his cleat prints.
—
Andrew Blancato (@BigDogBlancato) holds a J.D. from New York Law School, and is a graduate of the University of Massachusetts, Amherst. When he's not writing, he is either clerking at a trial court in Connecticut, or obsessing over Boston sports.
Featured image courtesy of [Wikipedia/Marcus Qwertyus]