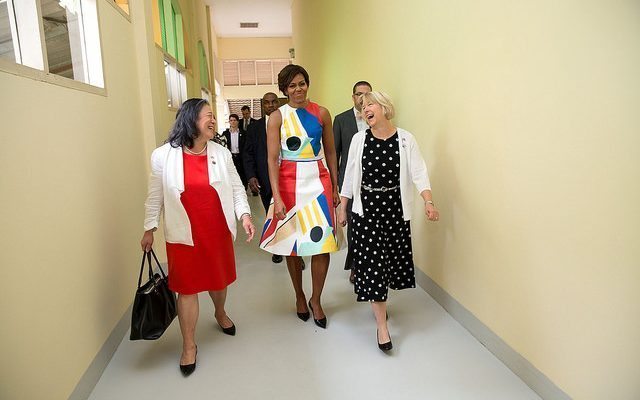 Image Courtesy of [U.S. Embassy Phnom Penh via Flickr]
Politics
White House's United State of Women Summit Pushes for Gender Equality
By
|
The atmosphere inside the White House's first United State of Women summit Tuesday pulsed with pride. Amid the sounds of female-empowerment anthems like Aretha Franklin's "Respect," Beyoncé's "Run the World (Girls)," and Katy Perry's "Roar," thousands of diverse women and girls joined one another with a common goal–female empowerment and gender equality.
The day-long summit, which was hosted inside D.C.'s massive Walter E. Washington Convention Center, aimed to educate and inspire women in the U.S. and abroad with talks on everything from economic empowerment and educational opportunity to violence against women.
As its title would suggest, the United State of Women summit was ultimately a celebration of how far women have come, but it was also the perfect forum to discuss what else needs to be done. Heavy applause reverberated from the room as women rejoiced individual efforts to end female genital mutilation, expand maternity leave, and humanize transgender people in our society.
The extensive list of speakers included Planned Parenthood President Cecile Richards, billionaire Warren Buffet, and Black Girls Rock! founder Beverly Bond, not to mention a whole host of Hollywood's elite including Kerry Washington, Patricia Arquette, Shonda Rhimes, Amy Poehler, and Mariska Hargitay.
Vice President Joe Biden kicked off the event with remarks about violence against women and President Barack Obama delivered a memorable speech in which he referred to himself as a feminist.
However, attendees spent much of the day waiting in anticipation for First Lady Michelle Obama and Oprah Winfrey's seated keynote conversation on the forging of a path for a new generation of women, which touched on the importance of developing self-worth, life post  the White House, and Barack's swag.
But the United State of Women wasn't just a White House-sponsored sparring of ideas, it was a precursor for action. That same morning the Obama administration, private-sector companies, foundations and organizations announced "$50 million in commitments, along with new policies, tools and partnerships that will continue to expand opportunity for women and girls."
One of these opportunities includes the White House Equal Pay Pledge, through which companies agree to conduct annual gender pay analysis and reassess their hiring and promotion processes. So far 28 companies including Airbnb, American Airlines, Amazon, Pinterest, Slack, Spotify, and Rebecca Minkoff have already signed the pledge.
And on Wednesday, First Lady Michelle Obama announced more than $20 million in commitments to the White House's Let Girls Learn initiative, which aims to "elevate existing programs and invests in new efforts to expand educational opportunities for girls—including in areas of conflict and crisis."
These initiatives display a clear message that President Obama has no plans of halting his efforts to tackle women's issues in the final months of his presidency.