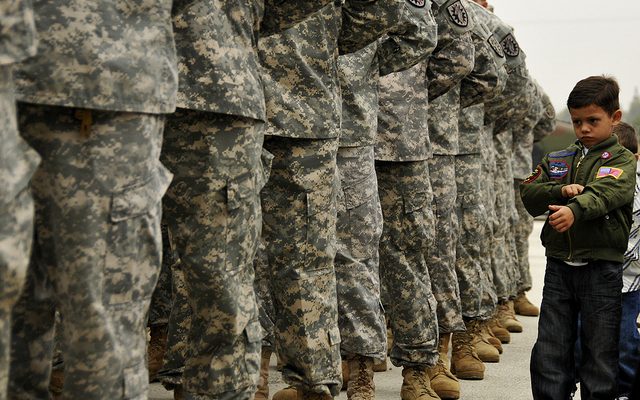 Image Courtesy of California National Guard: License (CC BY 2.0)
Politics
White House Denies Plans to Deploy National Guard for Immigration Roundups
By
|
The White House is pushing back against claims that President Trump is considering a proposal to mobilize as many as 100,000 National Guard troops to round up unauthorized immigrants.
According to an 11-page draft memo obtained by The Associated Press, governors in 11 states, including some that are not along the U.S.-Mexico border, would have the choice to have their guards participate in the roundup. The deportation measure would act in conjunction with Trump's executive order on immigration and border security signed on January 25.
The AP originally reported that the memo from U.S. Homeland Security Secretary John Kelly, a retired four-star Marine general, was addressed to the then-acting heads of U.S. Immigration and Customs Enforcement and U.S. Customs and Border Protection. Vice published a copy of the memo obtained by the AP.
Trump weighs mobilizing National Guard to round up unauthorized immigrants in 11 states. https://t.co/0lLvP59GZU pic.twitter.com/UJXfJslnqy

— AP Interactive (@AP_Interactive) February 17, 2017
White House Press Secretary Sean Spicer categorically denied the AP report, calling it "100 percent not true" and "irresponsible." He said, "There is no effort at all to utilize the National Guard to round up unauthorized immigrants."
However, conflicting reports are coming out of the Department of Homeland Security. A DHS spokesperson contends that the pre-decisional draft never made it to Secretary Kelly's desk and was never seriously considered by the agency. But staffers from the department told the AP that they discussed the proposal as recently as last Friday.
As the document's validity continues to be investigated, it's important to consider the substantial impact it would have if implemented. Nearly one-half of the 11.1 million people residing in the U.S. illegally live in the 11 states–California, Arizona, New Mexico, Texas, Oregon, Nevada, Utah, Colorado, Oklahoma, Arkansas, and Louisiana–according to Pew Research Center estimates using 2014 Census data.
The leaked proposal comes as the Trump administration hurriedly attempts to save face after the swift demise of its unconstitutional and discriminatory immigration ban. Last week, ICE agents arrested 680 people in raids across the country, which Secretary Kelly later called "routine." While National Guard personnel have helped with immigration enforcement on the border before, this action would increase their involvement significantly.