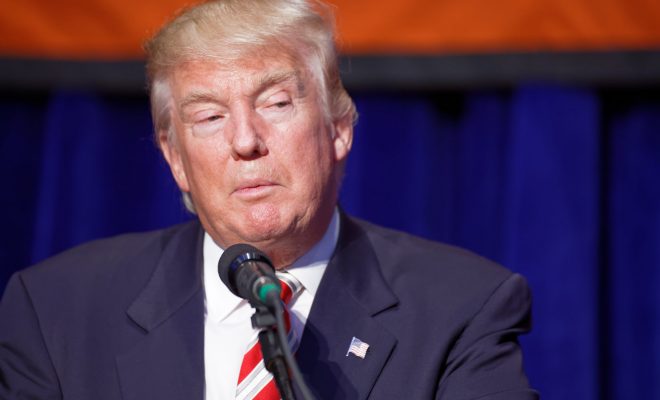 "Donald J. Trump at Marriott Marquis NYC September 7th 2016" Courtesy of Michael Vadon: License (CC BY 2.0)
Politics
Trump's Threats Against Alaska May Be Misguided
By
|
President Donald Trump has continued to establish a precedent that loyalty to his administration will be rewarded, and anything else will be met with a harsh response on social media. Both of Alaska's senators were recently on the receiving end of that ire.
Trump decided to publicly and privately express his displeasure with Republican Senator Lisa Murkowski for her "no" vote on repealing the Affordable Care Act. Early Wednesday, Trump took to Twitter to specifically call out Murkowski for her decision.
Senator @lisamurkowski of the Great State of Alaska really let the Republicans, and our country, down yesterday. Too bad!

— Donald J. Trump (@realDonaldTrump) July 26, 2017
But Trump's team did not leave it at that. Secretary of the Interior Ryan Zinke called Murkowski and fellow Republican Senator Dan Sullivan yesterday to warn them that opposing the bill could lead to repercussions for Alaskans, according to Alaska Dispatch News. Sullivan told the Alaskan publication that the message was "troubling."
"I'm not going to go into the details, but I fear that the strong economic growth, pro-energy, pro-mining, pro-jobs, and personnel from Alaska who are part of those policies are going to stop," Sullivan said.
Some of the key regulatory issues that have been priorities for Murkowski and Sullivan include nominations of Alaskans to Department of Interior posts, an effort to build a road out of King Cove through the Izembek National Wildlife Refuge, future opportunities to drill in the Arctic National Wildlife Refuge, and expanding drilling in the National Petroleum Reserve-Alaska. All of these could hypothetically be in jeopardy.
However, as is the case with many of the decisions this administration has made, it appears that this may have been a poorly thought out move. First off, Trump has decided to hit back at a senator who is quite popular with Alaskans. In 2010, Murkowski became the first senator in over 50 years to win an election with a write-in campaign over Tea Party candidate Joe Miller. The campaign gave out temporary tattoos to voters so they could remember how to spell her name on the ballot.
Murkowski is the chairwoman of the Interior-Environment Subcommittee, which is tasked with confirming any nominees to the Department of the Interior that Secretary Zinke may put forward. She also helps control the money that goes into the department as a member of the Senate Appropriations committee. It's been theorized that Murkowski may be hitting back against Zinke. A hearing to confirm a series of nominees to the Interior has already been delayed, according to NBC News Capitol Hill Correspondent Kasie Hunt.
Perhaps the biggest flaw in the Trump Administration's threat is its inadvertent support for the environment. The road through King Cove is supposed to cut through a wildlife refuge. The plans for oil expansion include drilling in protected lands. So, Zinke could end up continuing the Obama Administration's tradition of prioritizing environmental protection over exploiting federal lands.
Murkowski might still be paying attention to these threats. Oil is one of the largest contributors to Alaska's economy so any damage to that would be severely damaging to the jobs of her constituents. But it seems that the senator is confident that she made the right decision with her health care vote. "I base my votes on what I believe is in Alaska's best interest," she said Tuesday. "So I know that there are those who wish that I would be more in line with following the party platform, but I don't think it should come as any surprise that there have been occasions that I have not followed the lead of the party."