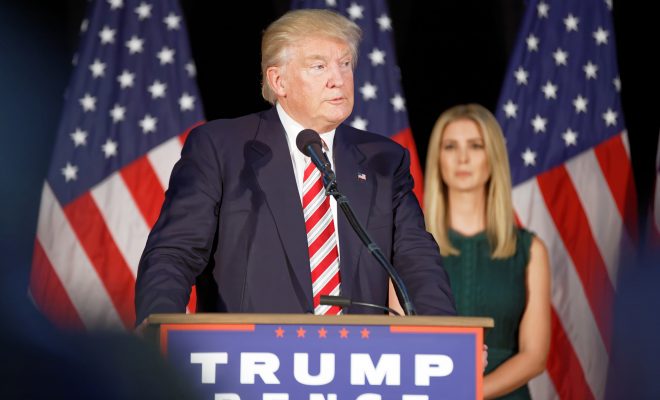 Image courtesy of Michael Vadon; License: (CC BY 2.0)
Politics
Is Trump's Appointment of Jared Kushner Legal?
By
|
Jared Kushner will be a senior advisor in the White House, President-elect Donald Trump's team announced on Monday. The appointment of Kushner, Trump's son-in-law, raises some questions about the legality of hiring family members for public positions. Ethics experts are split on whether or not the appointment will hold. Some claim it breaches a federal anti-nepotism law, while others say that law does not apply to White House appointments.
After being elected president in 1960, John F. Kennedy appointed his brother, Robert, as the U.S. attorney general. The appointment of a family member to a top cabinet post stirred up a national debate on nepotism. In 1967, that debate was, for the time being, settled with a federal law that barred public officials from employing family members to serve in public posts. The law states:
A public official may not appoint, employ, promote, advance, or advocate for appointment, employment, promotion, or advancement, in or to a civilian position in the agency in which he is serving or over which he exercises jurisdiction or control any individual who is a relative of the public official.
Trump's appointment of Kushner, who Trump called "a tremendous asset and trusted adviser throughout the campaign and transition" in a statement on Monday, poses a challenge to the anti-nepotism statute. But some ethics experts say that a 1978 law narrowed the purview of the anti-nepotism law, and effectively allows White House officials, including the president, to appoint family members to a role within the administration.
A previous case involving a former foe of Kushner's father-in-law, Hillary Clinton, also bodes well for Kushner. In 1993, President Bill Clinton selected his wife to head a health care initiative. The appointment was challenged in a federal court. D.C. Circuit Judge Laurence Silberman ruled in favor of the Clintons, saying he doubts "Congress intended to include the White House or the Executive Office of the President" in the anti-nepotism law. "So, for example, a President would be barred from appointing his brother as Attorney General, but perhaps not as a White House special assistant," he added.
Donald Trump's son-in-law Jared Kushner says the President-elect didn't believe the conspiracy theories he pushed https://t.co/qotveI7KAg pic.twitter.com/dkxNpnTJ0v

— CNN Politics (@CNNPolitics) January 9, 2017
Kushner, 36, has business entanglements in the U.S. and abroad that some worry could compromise his ability to work in the White House. But Jamie Gorelick, Kushner's lawyer, confirmed that Kushner will divest from his holdings and step-down from various real estate and publishing positions. Kushner is a lifelong Democrat and offers liberals, including New York Mayor Bill de Blasio, who called him a "very reasonable person," on Monday, a moderating voice in the Trump Administration.
Kushner is expected to have an equal role to Trump's Chief of Staff Reince Priebus and Chief Strategist Steve Bannon. His focus will be on free trade, forging private-public partnerships, and issues involving the Middle East and Israel. Gorelick, who served as the deputy attorney general in the Clinton Administration, is confident that her client will have no problem in his new post. "I am not saying there's no legal argument on the other side," she said on Monday. "I'm just saying we have the better argument and will prevail."