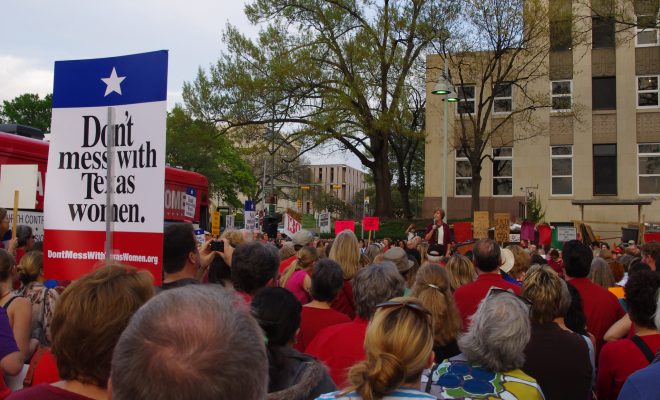 Image Courtesy of scATX; License: (CC BY-ND 2.0)
Politics
Texas is Ending Medicaid Funding for Planned Parenthood
By
|
The Texas Health and Human Services Commission issued a final notice on Tuesday to Planned Parenthood that the health services provider will be barred from receiving Medicaid funds. Planned Parenthood said 11,000 women who seek treatment in 34 clinics across the state will be affected. The ruling is set to go into effect 30 days from when it was issued, unless a federal court denies the state's move.
The group, which receives about $4 million each year in Medicaid funding, signaled that it will pursue an injunction in federal court. President of the Planned Parenthood Federation and Planned Parenthood Action Fund Cecile Richards, called the decision a "cautionary tale for the rest of the nation," and warned that if similar moves are made in other parts of the country, "it will be nothing less than a national health care disaster."
Federal courts have stepped in to dismiss similar state-level rulings over the past year. Judges stopped attempts to defund clinics in Mississippi, Arkansas, Louisiana, and Kansas. And earlier this year, the U.S. Supreme Court saved a number of abortion clinics in Texas from shutting down. But this has been a drawn-out battle between Texas and Planned Parenthood, and it's unclear how courts will rule in this case.
In July 2015, an anti-abortion group released covertly filmed and heavily-edited videos that claimed to show Planned Parenthood officials agreeing to sell fetus parts for profit. The group has vehemently waved off the videos as heavily doctored and highly inaccurate. Tuesday's notice cited the videos as "the basis for [Planned Parenthood's] termination" from Medicaid. It also said the group fails to provide care "in a professionally competent, safe, legal and ethical manner."
"Texans expect that when taxpayer dollars are granted to health care providers, it is only to those who demonstrate that the health and safety of their patients come before a profit motive that puts women at greater risk," said a statement from the office of Texas Governor Greg Abbott, a Republican.
Planned Parenthood sued Texas in November 2015, when the state first signaled it would be cutting its access to federal money, a move that was also in response to the controversial videos released a few months prior. That case is still pending. A wider effort to defund Planned Parenthood could come early next year, when President-elect Donald Trump takes office. While he has expressed support for some of the services the group provides, Trump's appointment for health secretary is Tom Price, a vocal opponent of Planned Parenthood.