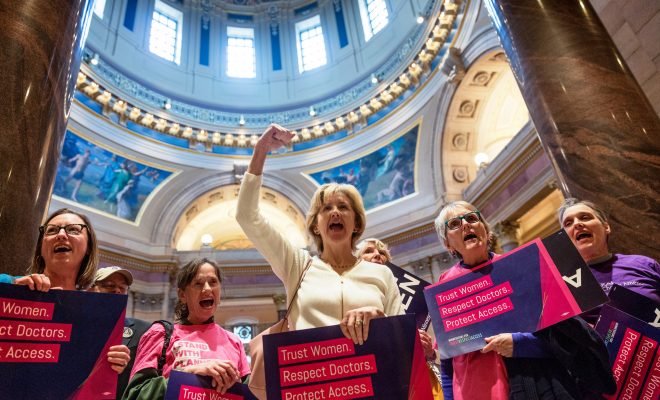 Image courtesy of Lorie Shaull; license: (CC BY-SA 2.0)
Politics
Texas Wants Medicaid Money Back, Won't Play Nice with Planned Parenthood
By
|
Texas has asked the government to give the state back the federal Medicaid money that it gave up when it chose to exclude Planned Parenthood from its family planning program. The request has alarmed women's health advocates, who worry that if Texas is given access to the money without having to include Planned Parenthood again, it could set an example for other states to do the same thing.
The program Texas wants to fund is an alternative for women's reproductive health that doesn't include any abortion providers. It is called Healthy Texas Women and it connects women with providers that offer cancer screenings, contraception, and treatment for diabetes or high blood pressure. It helps women that make up to 200 percent of the poverty line and don't qualify for Medicaid.
Normally, these types of programs are financed largely by federal money and the rest by the state. But after Texas decided to shut out all providers that offered abortions in 2013, the program had to be completely financed by state money. That is because federal law doesn't allow states to simply pick and choose which providers it gives Medicaid money to.
Um, no. If you throw women under the bus, you don't get the money. https://t.co/GLHN6iTsZk

— Scott Wiener (@Scott_Wiener) May 16, 2017
But critics say most women don't know that Healthy Texas Women even exists. The number of women enrolled has decreased significantly compared to the number enrolled in a previous version of the program in 2015. And the difference is even larger compared to the number enrolled in the state's Medicaid Women's Health Program in 2011, when Planned Parenthood was still included. Officials have spent millions of dollars on marketing, but it hasn't been as successful as expected. Reduced funding also led to many women losing health coverage.
Joe Pojman, executive director for Texas Alliance for Life, said that "low-income women deserve better care than Planned Parenthood is willing or able to provide." But women are not as sure about that. Jessica Farrar, Democratic Texas State Representative, said earlier in May:
Increased funding for marketing for Healthy Texas Women highlights the simple fact this program has not yet, and never will, replace Planned Parenthood.
And Yvonne Gutierrez, executive director for Planned Parenthood Texas Votes, agreed:
They've been trying this for several years, but every time they've gone through an iteration of this they've not been able to make it work. Why is this taking you so long if it was supposed to be so easy to do this without Planned Parenthood?
A study looking into the effects of removing Planned Parenthood from the state's health program showed that throughout the following 18 months thousands of women stopped getting long-acting birth control. There was also a 27 percent increase in Medicaid pregnancies. Texas now has the most births in the country: 400,000 babies were born between July 1, 2014 and the same date a year later. Texas also has one of the highest teen birth rates in the U.S.
Now state legislators wants to get the Medicaid funding back for Healthy Texas Women but not be required to include any abortion providers. And considering President Trump's record on abortion legislation so far, it doesn't look impossible. "This is a new administration, and we're looking at what funding opportunities may exist for us," said Carrie Williams, a spokeswoman for the Texas Health and Human Services Commission.