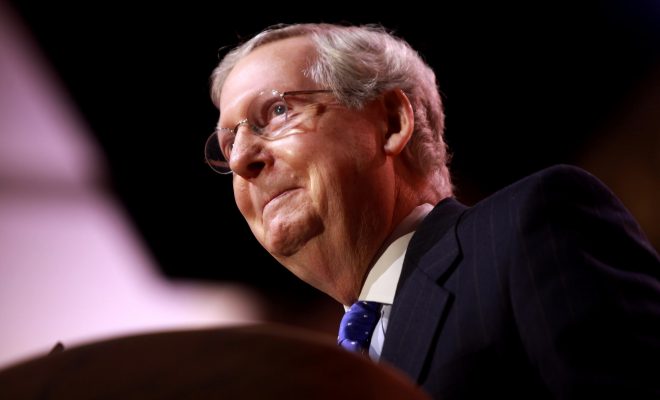 Image Courtesy of Gage Skidmore; License: (CC BY-SA 2.0)
Politics
Senate Republicans' Health Care Effort is Cloaked in Secrecy
By
|
Weeks after House Republicans passed a health care bill, GOP senators are drafting their own version of a law that would repeal and replace Obamacare. Among a variety of differences between the two Republican efforts, one is especially rankling to Democrats: the senators of the Budget Committee are cobbling together their bill in secret. According to a number of Senate aides, nobody outside that committee, including a number of Republican senators, has seen the bill's precise language.
Influential Senate Democrats took to Twitter to pillory the secretive Republican process:
My advice today: focus 10% of your attention/outrage on Sessions testimony, 90% on the secret health care bill that is speeding to a vote.

— Chris Murphy (@ChrisMurphyCT) June 13, 2017
 Senate Majority Leader Chuck Schumer (D-NY) said Republicans "are trying to pass a health care bill in the dead of night." He added:
If they were proud of this plan, they wouldn't hide anything – they'd crow all about it! What exactly are they trying to cover up? 5/7

— Chuck Schumer (@SenSchumer) June 12, 2017
Republicans are hoping to vote on the bill by the July 4 recess, which gives them a window of a couple of weeks to finish drafting the bill, and send it to the Congressional Budget Office for a review. The CBO, a non-partisan analysis agency, released its evaluation of the House health care effort a few weeks after the bill was passed. It found that the bill could result in 23 million more uninsured Americans.
A CBO evaluation could take up to two weeks, so if Republicans hope to vote on the Senate bill by July 4, it would have to be completed in the coming days. But even as the bill nears completion, some high-ranking Republican senators are being kept in the dark as well.
"I want to know exactly what's going to be in the Senate bill, I don't know it yet," Senator Ron Johnson (R-WI) recently told reporters. "It's not a good process." And Senator Lindsey Graham (R-SC) said "this is not the best way to do health care, but it's the way we're having to do it," adding that the only thing about the bill he's aware of is that "they're writing it."
While the particulars of the bill are largely unknown, there have been reports about some of its broad outlines. Overall, the bill is expected to be left of the legislation the House passed last month. Medicaid expansions would be phased-out over seven years instead of two, and tax credits would be offered to a broader range of low-income individuals.
Once the bill is out in the open, and hits the Senate floor for a vote, it faces a fractured chamber, not to mention a complete lack of Democratic support. To pass, the bill will need the support of a diverse contingent of Republican Senators–the more conservative members, like Senator Mike Lee (R-UT) and Senator Ted Cruz (R-TX), and more moderate ones, like Senator Susan Collins (R-ME) and Senator Lisa Murkowski (R-AK).
Meanwhile, Senator Bernie Sanders (I-VT), tweeted perhaps the most creative critique of the secretive Republican effort:
BREAKING: Senate Republicans just released the schedule of hearings, committee markups and public testimony for their health care bill. pic.twitter.com/iHtXyZqyMW

— Bernie Sanders (@SenSanders) June 12, 2017