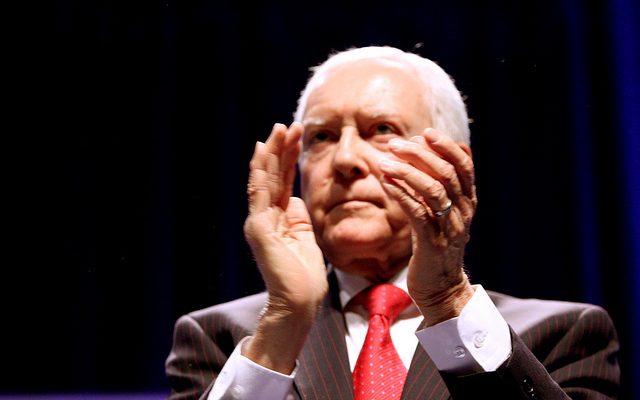 "Orrin Hatch" Courtesy of Gage Skidmore: License (CC BY-SA 2.0)
Politics
Senate Republicans Change Finance Committee Rules to Push Through Nominees
By
|
Senate Finance Committee Republicans took matters into their own hands to confirm two of President Donald Trump's nominees.
In an effort to advance Trump's nominees for Treasury secretary and secretary of the Department of Health and Human Services–Steven Mnuchin and Congressman Tom Price–the Republicans on the panel of the Senate Finance Committee voted in a surprise meeting on Wednesday morning to change the procedural rules that outlined that Democrats must be in attendance to vote on the nominees.  With this rule change, Mnuchin and Price were approved by the committee in a 14-0 vote, allowing for the nominations to go to the full Senate for approval.
Where are @SenateFinance Dems this morning? Standing with the ppl of OH and others hurt by the abusive practices of Mnuchin's bank. pic.twitter.com/AvLpnxyJko

— Sherrod Brown (@SenSherrodBrown) February 1, 2017
This move comes a day after Democrats on the panel of the Senate Finance Committee staged a boycott of Mnuchin and Price's hearings, which presented an obstacle considering the standing rule was that at least one Democrat had to be present in order for any votes to take place. The boycott was led by Senators Sherrod Brown and Roy Wyden in an effort to push for more vetting of both Mnuchin and Price, both of whom the senators claim gave misleading testimonies and responses during the committee hearings about their investments and foreclosure practices, respectively.
.@sensherrodbrown on why Senate Dems boycotting Price and Mnuchin committee votes. https://t.co/qr5oT2gOHX

— Andrew Rafferty (@AndrewNBCNews) January 31, 2017
The Democratic senators outlined their concerns and request for further questioning in a letter sent to the committee's chairman, Republican Senator Orrin Hatch, this morning.
Here are the questions @SenateFinance Democrats want answers to from Price & Mnuchin pic.twitter.com/jo2NOyq484

— Ron Wyden (@RonWyden) February 1, 2017
Talking to reporters on Tuesday afternoon, Hatch relayed his annoyance with the boycotting senators. "I'm very disappointed in this kind of crap . . . This is the most pathetic thing I've seen in my whole time in the United States Senate," Hatch said.
Even after the rule change and the approval of Trump's two nominees, Hatch still took time to go after the committee's Democrats for their boycott, telling reporters that the boycott was "unprecedented obstruction" and a "cheap political ploy." However, the boycott might not be as unprecedented as Hatch claims it to be, considering, as many have pointed out, the Republicans boycotted in 2013 to block the confirmation of Gina McCarthy as the head of the Environmental Protection Agency.
The rule change and verbal sparring in the media between Finance Committee members just adds to the rising tension between members of Congress. Yesterday, Senate Minority Leader Chuck Schumer voted no on the confirmation of Elaine Chao as Transportation Secretary, who is Senate Majority Leader Mitch McConnell's wife. Earlier today, things got contentious between Democratic Senator Al Franken and GOP Senator John Cornyn during a Judiciary Committee meeting when Cornyn took exception to Franken calling out absent GOP Senator Ted Cruz. In addition, Democratic senators on the Environmental and Public Works Committee–taking a cue from their colleagues on the Finance Committee–have staged a boycott of the vote to confirm Scott Pruitt as the head of the EPA.
Al Franken calls out absent Ted Cruz & Cruz's GOP colleague John Cornyn objects. Franken: "Well, he should be here." pic.twitter.com/zjMBDhshnJ

— Keith Boykin (@keithboykin) February 1, 2017
And this is only Day 12 of Trump's presidency.