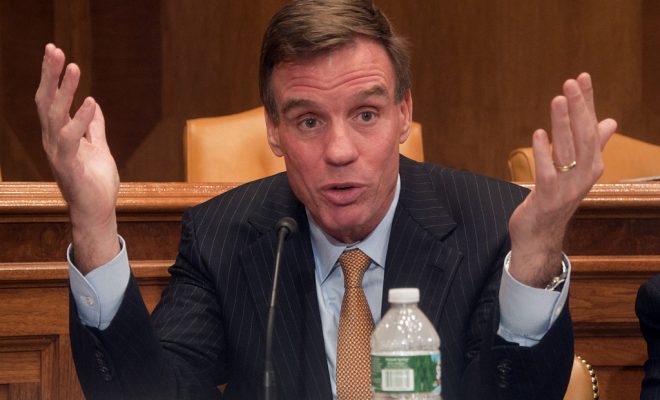 "Sen. Mark Warner" Courtesy of New America: License (CC BY 2.0)
Politics
What You Need to Know About the Senate Intelligence Committee's Russia Probe
By
|
With a new story coming to light seemingly every single day, there's no question that all the news about Russia and its interference in the 2016 election is confusing. So, it's fair to assume that a lot of people were surprised on Wednesday when Senators Richard Burr, the Republican chairman of the Senate Intelligence Committee, and Mark Warner, the Democratic Vice Chairman, held a joint news conference discussing the Senate's Russia probe.
The biggest takeaway from the press conference was Warner's comment on one part of Russia's strategy to destabilize the election, which concerned the Kremlin hiring 1,000 paid trolls to generate fake anti-Clinton stories targeted at specific areas in the U.S. Warner did not elaborate on where those specific areas were, but he alluded to the committee investigating trolls targeting Michigan, Pennsylvania, and Wisconsin. The significance of Russia targeting these three specific states is simple: they are all swing states that President Donald Trump narrowly won. They were also the three states included in the unsuccessful recounts prompted by Jill Stein.
"An outside foreign adversary effectively sought to hijack the most critical democratic process, the election of a president, and in that process, decided to favor one candidate over another," Warner said.
The second biggest takeaway was Burr's comments on Russia's "active involve[ment]" in tampering with France and Germany's upcoming elections. "What we might assess is a very covert effort in 2016 in the United Sates is a very overt effort as well as covert in Germany and France," Burr said. "We feel part of our responsibility is to educate the rest of the world about what's going on because it's now into character assassination of candidates."
The news conference was an attempt to assure the public that the Senate's investigation would not be mired in controversy and unprofessionalism. Burr and Warner seemed acutely aware of the fact that one big story was Republican House Intelligence Committee Chariman Devin Nunes' bizarre actions over the past week. "Let me set the ground rules real quick. We'll answer anything about the Senate Intelligence Committee's investigation. We will not take questions on the House Intelligence Committee," Burr said as he smirked and as Warner audibly laughed.
The two senators also outlined their plans to interview 20 witnesses in public or private hearings for their investigation, including Jared Kushner and the ever-controversial Paul Manafort, as was first reported by the Times. Burr also added that the committee had already held conversations with some people, most notably Michael Flynn.
Yesterday morning, the committee held its first public hearing, which led to two startling revelations. The first was that Marco Rubio's presidential campaign and Senate reelection campaign were subject to social media attacks and hacks of campaign staff that came from computers with IP addresses located in Russia. The other revelation centered around testimony from Clinton Watts, a fellow at the Foreign Policy Research Institute and  Center For Cyber and a senior fellow at the George Washington University's Center for Cyber and Homeland Security. He said that Russia has a cache of false information campaigns that it can use against politicians from both sides of the aisle and that Trump also uses false narratives against his opponents.
Russia expert says Trump strengthened Russian propaganda: "Part of the reason active measures works…is they parrot the same lines." pic.twitter.com/tTGHLDfKvR

— ABC News Politics (@ABCPolitics) March 30, 2017
Watts explained that Russia's social media smear campaigns are "not all automated" and "not all human." "You can have someone engaging with you as an individual and using a bot to amplify their message… or [they] can create more personas on Twitter, for example," Watts said. A Twitter user showed evidence of this strategy back in February:
Funny how nearly all of the posts under the hashtag #MediaLiesAgain are from new accounts w/less than 50 followers. *We see you* pic.twitter.com/NpFZ9M4Xbi

— Caroline O. (@RVAwonk) February 17, 2017
As the House Intelligence Committee is still mired in chaos and discord, the tone of the Senate Intelligence Committee's first public hearing was serious and maintained a sense of decorum. "The vice chairman and I realize that if we politicize this process, our efforts will likely fail," Burr said to begin the hearing. "The public deserves to hear the truth about possible Russian involvement in our elections, how they came to be involved, how we may have failed to prevent that involvement, what actions were taken in response, if any, and what we plan to do to ensure the integrity of future free elections at the heart of our democracy."
Here's hoping that the committee's investigation, which looks like it will take quite a while, upholds that standard.