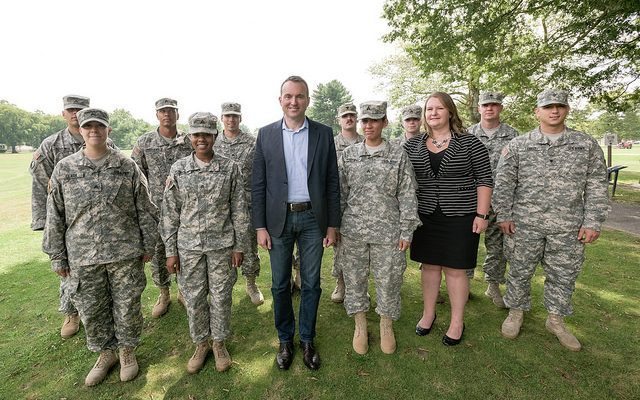 Image Courtesy of [Maryland National Guard via Flickr]
Politics
Senate Confirms Eric Fanning, First Openly Gay Secretary of the Army
By
|
The Senate confirmed Eric Fanning as the new Secretary of the Army Tuesday, making him the first openly gay civilian to hold the post. His nomination marks a historic moment in the LGBTQ movement, as Fanning is now the highest-ever ranking openly gay official at the Pentagon.
President Obama nominated Fanning for the position in September, but the confirmation stalled for eight months as Kansas Senator Pat Roberts (R) remained the only holdout due to an unrelated issue.
Roberts lifted the hold only after he was finally given reassurance from Deputy Defense Secretary Robert O. Work that prisoners from Guantanamo Bay would not be transferred to the U.S. military prison at Ft. Leavenworth in Kansas as part of the Obama administration's efforts to close the controversial Cuban prison.
Last month, Armed Services Committee chairman Arizona Sen. John McCain (R) pleaded with Roberts to end the standoff on behalf of the men and women serving in the Army. In an address to the Senate floor, McCain stated:
It is not fair to the men and the women of the United States Army to be without the leadership of a secretary of the Army. Mr. Fanning is eminently qualified to assume that role of Secretary of the Army. So I would urge my friend and colleague to allow me to… to not object to the unanimous consent that I am just proposing.
Prior to being named the Secretary of the Army, Fanning served as the Under Secretary of the Air Force, the Chief of Staff for the Deputy Secretary of Defense, and the Under Secretary of the Army.
Fanning's confirmation comes just five years after the repeal of "don't ask, don't tell," which effectively banned openly gay men and women from serving in the military. According to NPR, his nomination was just one of several efforts on behalf of the Obama administration to advance the rights of LGBTQ people in government, including extending federal benefits to same-sex couples and hiring the first openly transgender White House staffer.
Secretary of Defense Ash Carter congratulated his former Chief of Staff in a statement Tuesday saying,
Eric is one of our country's most knowledgeable, dedicated, and experienced defense officials and I am confident he will make an exceptional Secretary. Eric's experienced leadership will be an invaluable asset to the Army at this important moment.