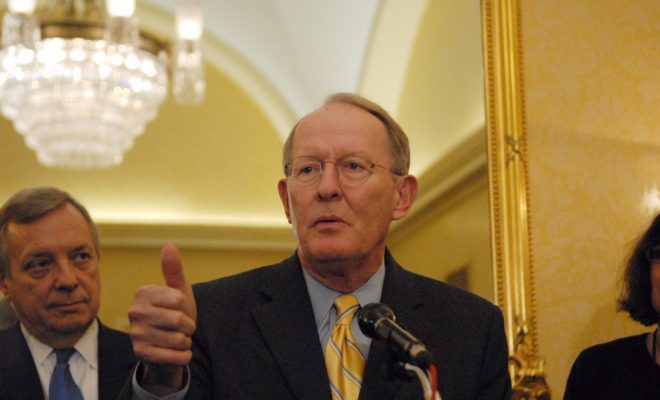 "Senator Lamar Alexander" Courtesy of AMSF2011; License: (CC BY 2.0)
Politics
Is the Republican Plan to "Repeal and Replace" Obamacare Over?
By
|
The Republican fantasy of a two-pronged "repeal and replace" strategy for Obamacare seems to be shifting to more of a fix-it approach. "Repair" is the latest buzzword that some Republican congressmen are attaching to their strategy for dealing with the Affordable Care Act. But insurers are confused. Consumers are worried. And President Donald Trump continues to signal his commitment to repealing the law, while Republicans have yet to coalesce around a comprehensive plan. Some have even backtracked on repealing it at all.
The retreat from "repeal and replace" began in earnest last week, during a Republican meet-up in Philadelphia. Lawmakers left the gathering with fractured ideas on how to continue with their years-long promise to dismantle President Barack Obama's signature health care achievement. Some doubled down on a wholesale demolition, no matter the lack of a follow-up plan. Others embraced a piece-meal approach: repeal Obamacare, then patch it up bit-by-bit.
But still, others seem to be doubting the wisdom of a repeal in any form. Sen. Lamar Alexander (R-Tennessee), one of the leading Republican voices in the GOP's health care effort, said this at a hearing on Wednesday:
I think of [Obamacare] as a collapsing bridge… You send in a rescue team and you go to work to repair it so that nobody else is hurt by it and you start to build a new bridge, and only when that new bridge is complete, people can drive safely across it, do you close the old bridge. When it's complete, we can close the old bridge, but in the meantime, we repair it. No one is talking about repealing anything until there is a concrete practical alternative to offer Americans in its place.
All of this uncertainty has insurers worrying that 2018 will see premiums rise and the insurance market stumble. In interviews with executives from 13 insurance companies that provide insurance in 28 states, the Urban Institute found the uncertainty is "bad for their businesses and for the overall stability of the individual market, both inside and outside the marketplaces." Insurers expressed particular concern that scrapping the ACA's individual mandate–which levies a tax on anyone who decides to forgo insurance–could cause healthy individuals to leave the market, leading to higher premiums.
"Respondents noted that the individual mandate is a key part of an interlocking set of policies designed to ensure a viable risk pool in the reformed individual market," the study found. While Republicans have said they plan on retaining the most popular parts of Obamacare–like forcing insurers to cover pre-existing conditions, for instance–they have also been steadfast in their distaste for the individual mandate.
Some Republicans seem to be changing their tune, and that might be enough to derail a complete restructuring of the health law, which has provided insurance to more than 20 million Americans. On Thursday, Sen. Orrin Hatch (R-Utah), another key player in the Republican repeal effort, said: "I'm saying I'm open to anything. Anything that will improve the system, I'm for." In the coming weeks and months, more and more Republicans might start to echo that sentiment. Insurers, meanwhile, are waiting with bated breath.