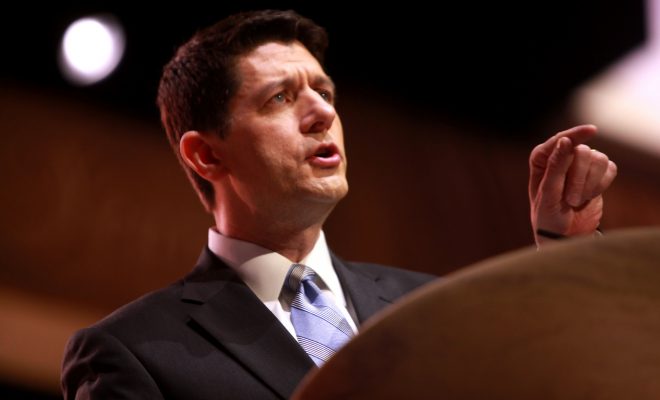 Image Courtesy of Gage Skidmore; License: (CC BY-SA 2.0)
Politics
Obamacare: Republicans and Democrats Lay Out Their Strategies
By
|
In two vastly different meetings on Capitol Hill on Wednesday, Democrats and Republicans, led by President Barack Obama and Vice President-elect Mike Pence respectively, discussed the future of the Affordable Care Act. Pence and GOP lawmakers reaffirmed their commitment, and President-elect Donald Trump's, to repeal and replace Obama's top health care achievement. Obama and the Democrats doubled down on Obamacare's bright spots, promising to not "rescue" Republicans by helping them to repeal the law. 
After the GOP meeting, which included Speaker Paul Ryan (R-WI), Pence told reporters that Americans "voted decisively for a better future for health care in this country," and Republicans "are determined to give them that." Pence said Trump, who promised to repeal and replace Obamacare during the campaign, will use his executive authority to reverse at least some of the law. Exactly what that replacement will look like is unclear.
What is crystal clear however, is the unified Republican resolve to gut Obamacare, a law that provides health coverage to about 20 million people. That process began on Wednesday, when the Senate voted 51-48 in support of a new budget blueprint that effectively clears the way for future legislation to repeal the law. Senate Republicans are expected to debate the budget proposal over the next few days. If the chamber officially accepts it, the House would then review the blueprint.
In a series of tweets on Thursday, Trump disparaged a potential Democratic ally with a nickname, criticized Obamacare, and called for a bi-partisan replacement plan. In one tweet, Trump called Senator Chuck Schumer (D-NY) the "head clown" of the Democrats' opposition to a health care overhaul. In another tweet, Trump said Obamacare was a "lie from the beginning," adding that both parties must "get together and come up with a healthcare plan that really works – much less expensive & FAR BETTER!"
As Republicans gathered to discuss repeal and replace, Democrats met with Obama for 90 minutes to prepare for the inevitable war on his signature achievement, and even hammered out marketing strategies for whatever future plan the Republicans propose. According to a White House aide present at the closed-door meeting, Obama suggested branding the Republican plan "Trumpcare." After the meeting, Schumer, the Senate minority leader, said repealing the ACA would "make America sick again."
He did not entirely shut down the possibility of working with the Republicans to craft a replacement. "If you are repealing, show us what you'll replace it with first," Schumer said. "Then we'll look at what you have and see what we can do." Ryan, a longtime critic of Obama's health care law, assured those who are concerned they would lose coverage that there would be an "orderly transition." He added: "the point is, in 2017, we don't want people to be caught with nothing."