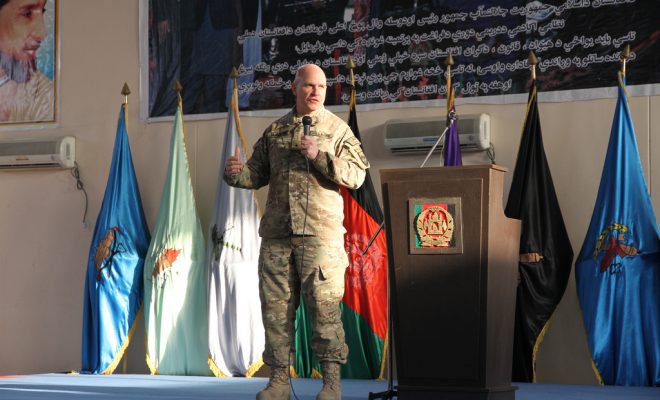 Image Courtesy of ResoluteSupportMedia; License: (CC BY 2.0)
Politics
Meet the New National Security Adviser: H.R. McMaster
By
|
After the ouster of Michael Flynn last week, President Donald Trump on Monday chose another highly decorated general as his National Security Adviser: Lt. Gen. H.R. McMaster. The appointment was met with widespread approval; McMaster is as respected for his battlefield strategy as he is for his intellectual rigor.
McMaster was not Trump's first choice to replace Flynn, however. Robert Harward, also a general, declined the post last week. Flynn resigned after reports surfaced that he misled Vice President Mike Pence about the content of his phone calls with the Russian ambassador during the transition period.
At a press conference on Monday, Trump called McMaster, 54, a "man of tremendous talent and tremendous experience." He added that McMaster "is highly respected by everyone in the military, and we're very honored to have him." Sen. John McCain (R-Arizona), a vocal critic of Trump over the past few weeks, said the president made an "outstanding choice," and called McMaster a "man of genuine intellect, character, and ability."
Congratulations to our new National Security Advisor, General H.R. McMaster. Video: https://t.co/BKn9r225Kk pic.twitter.com/VBXcJ1b6Pv

— Donald J. Trump (@realDonaldTrump) February 21, 2017
But despite his qualifications and reputation, McMaster is set to lead a national security apparatus that is largely dismayed by Trump's first month in office, and is trying to navigate the outsize influence of Trump's Chief Strategist Steve Bannon. Unlike Flynn, and others in Trump's orbit, McMaster does not see the West as being in a "clash of civilizations" with Islam. In fact, while serving in the Iraq War, he allied his forces with Islamic militants who had killed Americans in order to defeat al-Qaeda. Instead of vilifying all of Islam, he sought to turn Muslims against the more radical, jihadist strains. He also forbid his troops from using derogatory terms for Muslims.
Time will tell if McMaster, known for being an independent-minded leader who is unafraid to stand up to his superiors, will advise the president on national security issues, as his post is meant to, or if he will be forced to yield to the vision of Bannon and Trump. For his part, McMaster said he is "grateful" for the opportunity. Sitting with Trump at his Mar-a-Lago resort in Palm Beach on Monday, McMaster said he will do "everything I can to advance and protect the interests of the American people."
Though he is lauded for his battlefield exploits–he earned a Silver Star during the Persian Gulf war in 1991–his 1997 book "Dereliction of Duty" was widely acclaimed, and serves as a sort of blueprint for his views. The book was an in-depth critique of the Joint Chiefs of Staff for failing to stand up to President Lyndon Johnson during the Vietnam War.
"The war in Vietnam was not lost in the field, nor was it lost on the front pages of the New York Times or the college campuses," he wrote. "It was lost in Washington, D.C." McMaster will now be plunging deep into the place and the system he has previously critiqued, at a time when its leader, Trump, has not shown much deference to his appointees, no matter their experience or expertise.
But for now, McMaster is a welcome maven of stability for an administration that has been anything but. Rep. Adam Schiff (D-CA), the highest ranking Democrat on the House Intelligence Committee, tweeted his approval of McMaster on Monday: "McMaster is solid choice, bright & strategic. Wrote the book on importance of standing up to POTUS. May need to show same independence here."