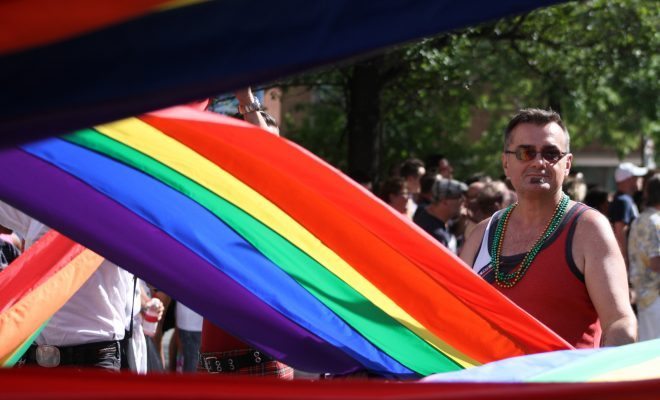 "Pride Flag" Courtesy of [JustinLing via Flickr]
Politics
Mississippi Religious Accommodation Act Struck Down
By
|
In a last minute save, a U.S. District Judge struck down Mississippi House Bill 1523 late Thursday night to prevent it from going into effect on the first of July. After Mississippi residents spent several months in shock over discriminatory policies disguised as religious liberty bills, it's a little surprising that there hasn't been more buzz surrounding this act.
The Mississippi Bill, known as the Religious Accommodation Act, allows businesses to deny service to members of the LGBT community because of religious beliefs. Essentially, the bill would have given members of the community who do not support homosexuality the right to discriminate against those people if they believe serving them violates their religious beliefs. It would allow business people in foster care, counseling, school administration, facility rentals, and wedding services to act based on their religious beliefs without repercussions for denying service to customers based on sexuality.
Judge Carlton W. Reeves, the presider in the case against this bill by the Mississippi Center for Justice and Campaign for Southern Equality, ruled in a 60-page decision that this specific religious law was not permissible under the Constitution. While there are some laws that protect religion in the state of Mississippi, Judge Reeves acknowledged that other laws protect the practice of all religions. This specific bill would only be protecting certain beliefs of certain citizens of a religion. He wrote:
If three specific beliefs are 'protected by this act,' it follows that every other religious belief a citizen holds is not protected by the act.
Not to mention that, if the bill were to go into effect, it would be discriminatory against members of the community:
A broad-based system by which L.G.B.T. persons and unmarried persons can be subjected to differential treatment based solely on their status.
At the end of the day, protecting one religion over all others is not constitutionally sound.
The pro-LGBT groups that have been supporting the repeal of this bill celebrated this morning as the decision was announced.
.@HRC commends Federal Judge's decision to block implementation of Mississippi's harmful HB 1523 #RepealHB1523 pic.twitter.com/c4b9kSVr5N

— HumanRightsCampaign (@HRC) July 1, 2016
BREAKING: We won! 60-page order from Judge Reeves stops enforcement of #HB1523 in Mississippi.

— Southern Equality (@CSElive) July 1, 2016
BREAKING: Federal Judge Blocks Implementation of HB1523 in Mississippi #RepealHB1523 https://t.co/nvZnrVvP6m pic.twitter.com/ppHJHqWgjR

— HumanRightsCampaign (@HRC) July 1, 2016
Robert McDuff, one of the attorneys working against the bill, summed it up quite nicely:
The federal court's decision recognizes that religious freedom can be preserved along with equal rights for all people regardless of race, religion, or sexual orientation.
Being hateful and discriminatory toward others is not a right guaranteed to citizens by the Constitution, no matter what their race, sexual orientation, gender, or religion is. Judge Reeves putting the kibosh on the Mississippi Religious Accommodation Act recognizes that fact and moves the state one step forward in the fight for equality.