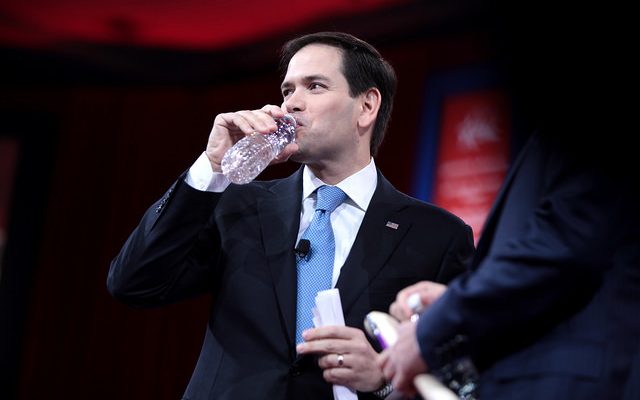 "Marco Rubio" courtesy of Gage Skidmore: License (CC BY-SA 2.0)
Politics
Marco Rubio Pledges his Support for Tillerson, Making Confirmation Likely
By
|
This morning, Florida Senator Marco Rubio took to Facebook to announce that he will support Rex Tillerson's nomination for Secretary of State, despite the tough questions that Rubio had for Tillerson during his confirmation hearing.
Rubio's long statement praises Tillerson's patriotism and "impressive record of leadership," but also highlights a number of concerns that Rubio brought up during the confirmation hearing, like Tillerson's refusal to call Vladimir Putin a war criminal. However, at the end of his statement, Rubio states his support of Tillerson despite these concerns, saying that he must "balance these concerns with his extensive experience and success in international commerce" and that "it would be against our national interests to have this confirmation unnecessarily delayed or embroiled in controversy."
Rubio's support comes a day after Republican senators John McCain and Lindsey Graham released a joint statement in support of Tillerson. In addition to Rubio, Graham and McCain were the two primary hurdles in the way of Tillerson's confirmation.
"We need a Secretary of State who recognizes that our nation cannot succeed in the world by itself," the joint statement reads. "The views that Mr. Tillerson has expressed, both privately and publicly during the confirmation process, give us confidence that he will be a champion for a strong and engaged role for America in the world."
The main criticism that senators on both sides of the aisle have of Tillerson is his connection to the Russian government when he served as CEO of Exxon Mobil, having received the Russian Order of Friendship from Vladimir Putin. Tillerson also lobbied the White House to lift the sanctions that were imposed on Russia after the invasion of Crimea.
Upon the release of his statement, Rubio has been met with criticism aimed at his lack of political courage.
Marco Rubio is the same man who called Obama "weak" on Russia. https://t.co/b48AfTgtKk

— Terrell J. Starr (@Russian_Starr) January 23, 2017
We knew how @marcorubio's tough talk about Tillerson would turn out, because we all knew how how his tough talk about Trump would turn out.

— Jamil Smith (@JamilSmith) January 23, 2017
Marco Rubio just listed his spine for sale on Craigslist.

— Michael Blackman (@ParaComedian09) January 23, 2017
So Marco Rubio:

1) Grilled Rex Tillerson and tried to embarrass him about Putin

2) Is now voting to confirm Rex Tillerson

— Matt O'Brien (@ObsoleteDogma) January 23, 2017
Rubio garnered a wave of praise after his comments during Tillerson's confirmation hearing, particularly for a line of questioning in which Rubio called for "moral clarity" and pushed Tillerson on his refusal to label foreign actors as sponsors of terrorism or in violation of international law.
"These were not obscure areas […] it should not be hard to say that Vladimir Putin's military has conducted war crimes in Aleppo," Rubio said. He added, "It is never acceptable, you would agree, for a military to specifically target civilians. I find it discouraging your inability to cite that, which is globally accepted." The video below shows Rubio's comments.
Rubio has a history of balking on his perceived strong stances, including his support of Donald Trump as the Republican nominee after calling him a "con man," and running for Senate after repeatedly saying that he had no intention of running if he did not become president.
I have only said like 10000 times I will be a private citizen in January.

— Marco Rubio (@marcorubio) May 17, 2016

The Senate Committee on Foreign Relations is expected to vote on Tillerson's nomination sometime on Monday.