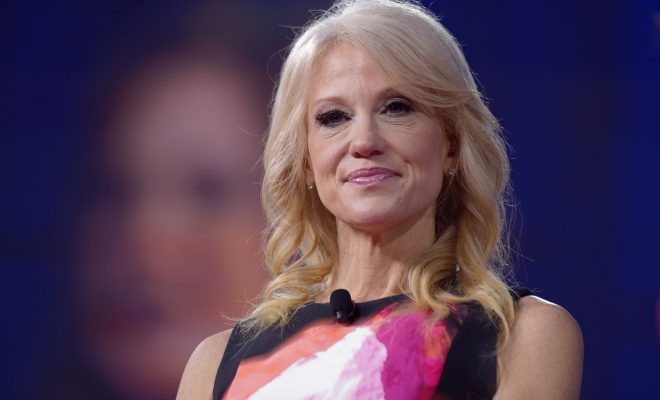 "KellyAnne Conway at CPAC 2017" Courtesy of Michael Vadon: License (CC BY 2.0)
Politics
Kellyanne Conway and the Terrible, Horrible, No Good, Very Bad Month
By
|
Here's a breakdown of everything that happened to Kellyanne Conway in February:
The Bowling Green Massacre (February 2)
In an interview with Chris Matthews, Conway uses a fabricated massacre to justify the immigration ban.
The Bowling Green Massacre Response (February 3)
The day after the interview, Conway claims she misspoke.
On @hardball @NBCNews @MSNBC I meant to say "Bowling Green terrorists" as reported here:
https://t.co/nB5SwIEoYI

— Kellyanne Conway (@KellyannePolls) February 3, 2017
However, the Washington Post finds this isn't the case, as Conway had referred to the "Bowling Green massacre" three times before.
Credibility Dispute with CNN (February 6)
CNN reportedly declines the White House's offer to have Conway appear on Jake Tapper's "State of the Union," due to "serious questions about [Conway's] credibility," according to the New York Times. Conway refutes this claim on Twitter, but is quickly called out by CNN's PR account.
. @KellyannePolls was offered to SOTU on Sunday by the White House. We passed. Those are the facts.

— CNN Communications (@CNNPR) February 6, 2017
Mika Brzezinski, co-host of "Morning Joe," tweets a response that suggests MSNBC also declines Conway appearances.
.@CNNPR @KellyannePolls you are not the first.

— Mika Brzezinski (@morningmika) February 6, 2017
The Jake Tapper Interview (February 7)
Conway appears on Tapper's other show, "The Lead." The interview garners Tapper acclaim for his relentless grilling. At one point in the interview Conway seems to admit her boss is a liar. The interview also gives the internet Tapper's resting bitch face:
the look on jake tapper's face while talking to kellyanne conway… pic.twitter.com/NiQtNSh8Rt

— Nicole Cairns (@nicoleindc) February 7, 2017
The Ethics Violation (February 9) 
On "Fox & Friends," Conway endorses Ivanka Trump's Nordstrom clothing line–a violation of an executive branch regulation that prohibits employees from promoting the private gain of friends.
This prompts two members of the House Oversight Committee to send a letter to the White House and the Office of Government Ethics asking for recommendations for disciplinary action against Conway. According to POLITICO, the OGE's website crashes due to traffic that same day. Later that day, Sean Spicer in a press briefing says Conway was "counseled" for her comments. This causes some controversy within the White House.
The SNL Sketch (February 12)
Presented without comment:
The Michael Flynn Interview Pt. 1 (February 13)
In an MSNBC interview, Conway claims that National Security Adviser Michael Flynn enjoys the "full confidence of the president" despite reports that revealed Flynn lied to Vice President Mike Pence about his communications with Russia's U.S. ambassador. Flynn resigns later that day.
The Michael Flynn Interview Pt. 2 (February 14)
Conway is interviewed by Matt Lauer the morning after Flynn's resignation. Lauer grills Conway on the timeline of Flynn's resignation and Trump's trust in Flynn. At one point, a frustrated Lauer tells Conway that she isn't making sense.
The White Nationalist Twitter Account (February 14)
After her Lauer interview, Conway tweets "I serve of the pleasure of @POTUS. His message is my message. His goals are my goals. Uninformed chatter doesn't matter."
A Twitter account named "Lib Hypocrisy" responds, praising Conway's "strength and resiliency" and expressing love for her. Conway subsequently retweets the praise while responding that she loves them back. It is discovered that "Lib Hypocrisy's" bio includes the hashtags #Nationalist and #WhiteIdentity.
Conway tells Buzzfeed News that she wasn't the one who retweeted the account, and that someone else has access to her account.
The Office of Government Ethics (February 14)
The OGE responds to the House Oversight Committee's letter by sending a letter of their own to the White House ethics official, recommending that the White House take disciplinary action against Conway.
"Morning Joe" Ban (February 15)
The "Morning Joe" hosts officially ban Conway from their show because they believe she has lost her credibility.
The Spicer Leaks (February 15)
CNN's Dylan Byers reports that five sources believe the person who has been leaking stories about Trump's frustration with Spicer is Conway. They say Conway is doing this place the blame of the administration's troubles on Spicer and to earn a "lasting place in the President's inner circle."
Sidelined (February 22)
You may have noticed there is a week-long gap between this controversy and the last one. Apparently, that was the White House's intention as, according to CNN Money, the White House sidelined Conway because comments she made during appearances on multiple shows were "off message."
When the news of the "sidelining" comes out, Conway refutes these claims and says she was invited to shows but wanted to focus on other pieces of her "portfolio."
Merriam-Webster (February 23)
At the Conservative Political Action Conference, Conway says she doesn't identify with being a feminist because "[modern-day feminism] seems to be very anti-male, and it certainly is very pro-abortion." The Merriam-Webster Twitter account then tweets this in response:
📈'Feminism' is defined as "the belief that men and women should have equal rights and opportunities." https://t.co/Zjf7CAPUjL

— Merriam-Webster (@MerriamWebster) February 23, 2017
Misconduct Complaint (February 24)
The Washington Post reports that 15 law professors specializing in legal ethics filed a professional misconduct complaint against Conway, who is a member of the D.C. bar.
The Couch (February 27) 
Presented without comment:
Kellyanne Conway photographed making herself comfortable on Oval Office couch https://t.co/4qeNGFjJWdpic.twitter.com/978aeedbxM
— New York Daily News (@NYDailyNews) February 28, 2017