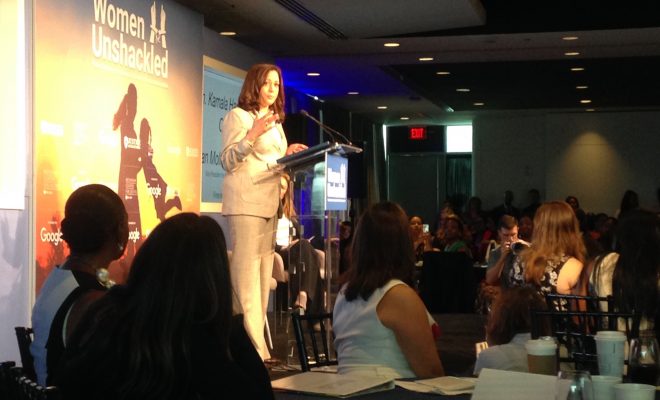 "Sen. Kamala Harris (D-CA) speaks about female incarceration" Courtesy of Alec Siegel via Law Street Media
Politics
Inside the Bipartisan Effort to Reform the Incarceration of Women
By
|
There are few issues in Washington that attract as much bipartisan support as criminal justice reform. Across the yawning political divide, leaders have stressed the need to reform America's sentencing laws, treatment options, and prison conditions. Billionaire donors–from the libertarian Koch brothers to the liberal George Soros–have opened their coffers to find solutions.
America is the world's foremost jailer, especially when it comes to women–nearly one-third of all female prisoners on the planet can be found in a U.S. facility. Congress, governors, NGOs, and leaders in the private sector are beginning to recognize the importance of tackling the issue of female incarceration, and its debilitating effects on women, children, and families.
"Biggest Cancer"
On July 11, a group of Democratic senators–Cory Booker (NJ), Elizabeth Warren (MA), Richard Durbin (IL), and Kamala Harris (CA)–introduced the Dignity for Incarcerated Women Act, which proposes "common-sense reforms to how the federal prison system treats incarcerated women," according to a press release.
Female incarceration is the "biggest cancer on our body politic," Booker said this week at an event at Washington D.C.'s Newseum called, "Women Unshackled." Discussions with formerly incarcerated women, he said, shed a light on the issues they face before, during, and after incarceration, and led him to draft a policy to address some of those problems.
The legislation seeks to end the practice of placing incarcerated women who are pregnant–three percent of female prisoners in federal prisons are pregnant upon admission–in solitary confinement. It would also ensure all feminine hygiene products are provided free of charge, ban the shackling of pregnant women (including while they are giving birth), and allow overnight visits to children whose mothers are imprisoned.
"We've been offered a false choice on criminal justice policy," Harris, also speaking at the "Women Unshackled" program, said. "A choice that suggests one is either soft on crime or tough on crime, instead of asking are we smart on crime." As it pertains to incarcerated women in particular, she said, "we need to be smarter."
Harris' reform efforts continued on Thursday, when she and Senator Rand Paul (R-KY) introduced a bail reform bill, the Pretrial Integrity and Safety Act. In an op-ed published in the New York Times on Thursday, the two senators wrote:
Whether someone stays in jail or not is far too often determined by wealth or social connections, even though just a few days behind bars can cost people their job, home, custody of their children — or their life… Our bail system is broken. And it's time to fix it.
Their legislation, Harris and Paul wrote, "empowers states to build on best practices" and "holds states accountable." It also encourages better data collection to "help guarantee that reforms yield better outcomes."
Generational Effects
Women are the fastest growing segment of America's incarcerated population, rising by over 700 percent from 1980 to 2014. As of 2014, American jails house roughly 215,000 women, the vast majority of whom are behind bars for non-violent, low-level drug offenses. According to a 2016 report by the Vera Institute of Justice, a criminal justice non-profit, nearly 80 percent of incarcerated women are mothers–65 percent have children under 18 years old.
"An incarcerated woman means that a family will be impacted," Harris said. "And its effects can be generational; what impacts a woman, impacts a child."
Booker framed the impacts of America's female incarceration rates as a "stain" on the country's founding values of freedom, justice, and dignity: "Do we take pregnant women and empower them? No, we shackle them, put them in solitary confinement," he said. "This is a stain upon everything we say we stand for."
Harris saw the effects of female incarceration up close as California's attorney general, a position she held from 2011 to early 2017.
"If someone commits a serious and violent offense," she said, "there is no question they need to be held accountable and there must be severe, swift, and certain consequence." But the vast majority of imprisoned women have been convicted of non-violent crimes, and thousands of others are jailed, awaiting trial. Some wait years.
In addition to legislation, like the recent bill Harris co-sponsored with Booker, Warren, and Durbin, she said a number of steps can be taken to make the system more just. For one, Harris believes preventive measures should be undertaken to stem some of the "seemingly small issues now" that might lead to poor choices down the road.
Harris said education, beginning with elementary school, is vital to future success: "a child going without an education is tantamount to a crime," she said. Harris also sees "untreated, undiagnosed, and undetected trauma" as the seed that could lead to future incarceration–eight in 10 incarcerated women have experienced abuse.
Bipartisan Issue, State-Level Solutions
Female incarceration is an issue that has gained traction from conservatives, liberals, and libertarians alike. The federal government is following the lead of states like Texas, Georgia, Utah, and Kentucky in addressing criminal justice reform. One Republican governor, Mary Fallon of Oklahoma, is paving the path forward with innovative programs and aggressive policies.
"[There are] things that can be done on the state level," Fallon said during the "Women Unshackled" event's keynote address. For instance, she said, states can "prioritize treatment for women who are pregnant, for women who have children, and provide those services in a targeted way to meet their very special needs."
Under her governorship–a mantle she has held since 2011–Oklahoma, which has the highest female incarceration rate in the nation, has opened residential treatment facilities. It has implemented community-based substance abuse programs. Fallon stressed the importance of public-private partnerships in keeping women out of prison.
Fallon highlighted a program called Women in Recovery, an "intensive outpatient alternative for women facing long prison sentences for non-violent, drug-related offenses," she said. And in a strategy that Fallon said is the first of its kind, Oklahoma "pays for success." The state essentially provides additional funding to private programs for each patient who is successfully treated.
Fallon is far from the only Republican to recognize criminal justice reform, and female incarceration in particular, as a pressing issue. Representative Doug Collins (R-GA), also speaking at the event in D.C., presented criminal justice reform as a moral imperative for the entire country.
"If we as a country value life as much as we say we do, then we value all life, even those who have made mistakes, and have went through the incarceration system," he said. Second chances, he said, begin by seeing jails as places to "put people in we are scared of, not those that we are mad at."
Last year, Congress signed into law the Comprehensive Justice and Mental Health Act, which Collins introduced in 2016. The legislation proposed reforms for how people with mental health issues are treated, diagnosed, and sentenced, "rather than treat prisons and jails as psychiatric facilities," Collins said in a statement when the bill was introduced.
Now, Collins is focused on finding ways "for people to have better choices," he said at the "Women Unshackled" event. Opportunities must be found to allow people to "recover from" mistakes, he said, "and to restore families, and to restore lives, and restore hope."
"Hope is not a partisan issue," Collins added. "It is for those who need to know that somebody cares."