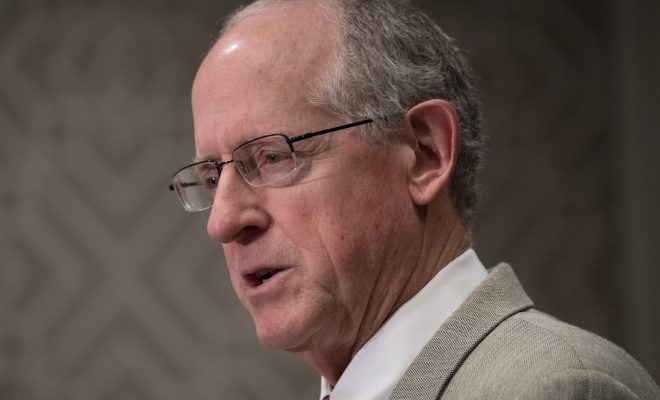 Image courtesy of U.S. Department of Agriculture; License: (CC BY 2.0)
Politics
Devin Nunes Steps Away from House Investigation into Russia
By
|
On Thursday morning, chairman of the House Intelligence Committee Devin Nunes announced he was stepping aside from the investigation into ties between the Trump campaign and Russia. This announcement isn't too surprising, given his questionable actions two weeks ago when he decided to brief President Donald Trump about the ongoing investigation into his campaign, and then called a spontaneous press briefing without notifying his colleagues on the committee first.
Also on Thursday morning, the House Committee on Ethics revealed that Nunes is being investigated because of suspicions that he "may have made unauthorized disclosures of classified information," according to the New York Times.
The main criticism against Nunes is that he doesn't seem capable of conducting an impartial investigation into President Trump; many have claimed that he is too close to Trump and the White House. Nunes said that "left-wing activist groups" had filed "entirely false and politically motivated" accusations against him and that he made the decision to step down from the investigation into the Russia ties because that would be the best for the committee.
Devin Nunes to be investigated for disclosing classified information while heading Russia probe https://t.co/xg9AY0mLuT pic.twitter.com/bWi0jF9Gmq

— The Hill (@thehill) April 6, 2017
Speaker of the House Paul Ryan said in a statement that he still trusts Nunes but also supports his decision to step down. Texas Rep. Mike Conaway will replace him on the investigation. Nunes will remain the House Intelligence Committee Chairman, but just won't participate in the Russia investigation. Conaway announced that he hopes to work with the Democrats on the committee to get the investigation going but that he needs their cooperation.
The investigation has already had one high-profile recusal, when Attorney General Jeff Sessions recused himself in the beginning of March. That time it was over questions about his meetings with the Russian ambassador last year, which were revealed after he denied having any contact with "the Russians" at his confirmation hearing. Trump then accused the Democrats of carrying out "a total witch hunt."
However, many people had positive reactions to Nunes's recusal.
Devin Nunes has recused himself from the Russia probe. Soon there won't be Trump allies anywhere but in the crosshairs of this scandal.

— George Takei (@GeorgeTakei) April 6, 2017