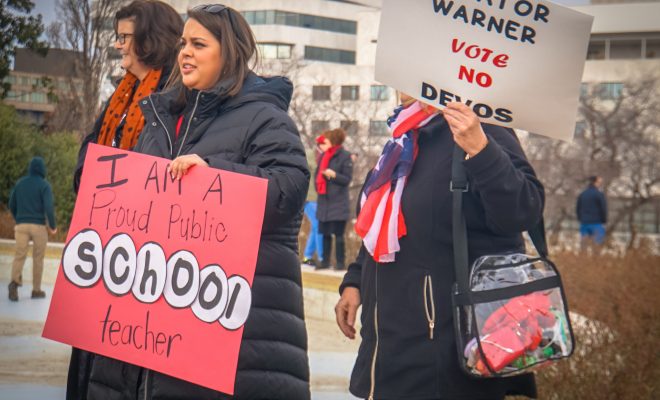 Image Courtesy of Ted Eytan; License: (CC BY-SA 2.0)
Politics
Democrats Stage Final, Futile Stand Against Betsy DeVos
By
|
In their final stand against Betsy DeVos, Democrats spent Monday night on the Senate floor, bracing for the controversial cabinet nominee's confirmation vote. The overnight protest was to no avail, however, as DeVos, President Donald Trump's education secretary nominee, was confirmed. The vote was split 50-50 until Vice President Mike Pence broke the tie with a deciding vote. But DeVos will begin her post with intense opposition which, Democrats hope, will lead her to shift some of her more radical views to the mainstream. 
Critics of DeVos, a longtime Republican donor, say she will fail to be an advocate for public schools, and might even radically change the country's education system to be more choice-based. DeVos has decades of experience in private education, and is a fervent supporter of charter schools and religious schools, but lacks experience, personally and professionally, in public education.
In a hearing a few weeks ago, DeVos displayed a basic misunderstanding of the federal law regarding public schools. Responding to a question about the federal law that requires public schools to provide equal opportunities to students with disabilities, DeVos said, "I think that is a matter that's best left to the states." Evidently, DeVos did not realize the Individuals with Disabilities Education Act is federal law, and is inherently not a state-level issue.
"Cabinet secretaries can't be expected to know everything. But this is different," Sen. Chuck Schumer (D-NY) said on the Senate floor on Monday. "The nominee for secretary of education doesn't know some of the most basic facts about education policy."
Senate Dems protest to keep the failed status quo. Betsy DeVos is a reformer, and she is going to be a great Education Sec. for our kids!

— President Trump (@POTUS) February 7, 2017
Monday's overnight protest is the latest salvo in a weeks-long flurry of friction from Democrats, lawmakers and constituents, against Trump's cabinet nominees, most pointedly focused on DeVos. Senators' phones have been ringing seemingly nonstop, with concerned constituents pushing their representatives to oppose DeVos, and to do more to sway Republicans to their corner.
Two Republicans, Sen. Susan Collins (R-ME) and Sen. Lisa Murkowski (R-AK) did just that last week, when they said they would not support DeVos; one more Republican needed to join them in order to block the billionaire. But Collins and Murkowski represent states with vast rural communities, where parents rely on public schools to educate their children. School choice, for many parents in those states, is not an option.
"One thing is very clear: if she is confirmed, she would enter the job as the most controversial and embattled secretary in the history of this department," said Sen. Patty Murray (D-WA) on the Senate floor on Monday. Murray is the top Democrat on the Senate committee that questioned DeVos in her confirmation hearing and, with voting along party lines, propelled her to a full Senate vote. "She would start her job with no credibility inside the agency she is supposed to lead," Murray added.