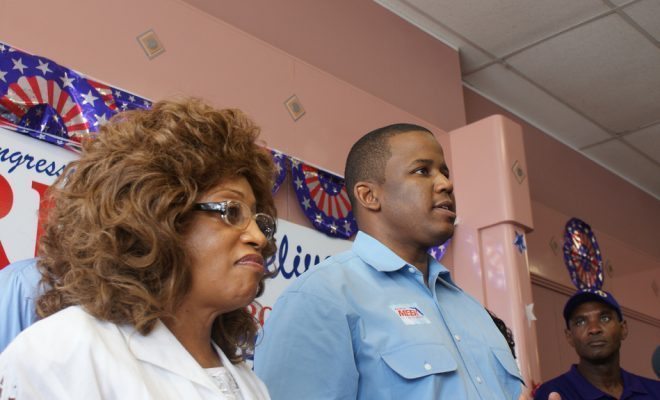 Image courtesy of [Kendrick Meek via Flickr]
Politics
Congresswoman Corrine Brown to Fight Long List of Federal Charges
By
|
Congresswoman Corrine Brown, who represents Florida's 5th Congressional District, was indicted late last week on 22 charges that include fraud and conspiracy. Brown's chief of staff, Elias "Ronnie" Simmons, was also hit with a number of related charges–both individuals are pleading not guilty on all counts. And Brown is fighting back against the charges in the court of social opinion as well, writing in a blog posted by her campaign that "I'm not the first black elected official to be persecuted and, sad to say, I won't be the last."
Brown is accused of using a sham education charity to solicit donations, as well as using those donations for her own personal gain. The group, called One Door for Education, allegedly never received the money that Brown raised on its behalf. Instead, according to a local ABC affiliate,
Much of the money was deposited to Brown's personal bank accounts so she could pay taxes that she owed, investigators said.

More than $200,000 in One Door funds went to pay for events hosted by Brown in her honor, including a golf tournament in Ponte Vedra Beach, receptions at an annual conference in Washington, D.C., and luxury boxes for a concert and an NFL game in Washington, D.C., investigators said.
Brown wrote a blog post last week, entitled "Note to my Friends" after news of the indictment broke, in which she claimed that the prosecutor wasn't telling her side of the story. She wrote:
The most important thing I want you to understand is that an indictment is not a conviction. An indictment is an accusation. Anybody can make an accusation. You've heard the prosecutor's side, but you still have not heard the rest of the story.
However, Brown also received significant criticism–particularly on the right–for juxtaposing her indictment with the killings of Alton Sterling and Philando Castile, and the fatal attacks on five Dallas police officers last week.
If Brown is convicted of all of the charges levied against her, she could face a hefty sentence, up to 300 years total.